10000 Lives: The 8th Gwangju Biennale
Group exhibition The 8th Gwangju Biennale, Gwangju, South Korea
hoto September 3 – November 7, 2010
Photo: Gwangju Biennale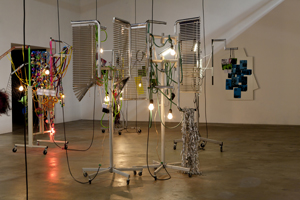 THE 8TH GWANGJU BIENNALE 2010

Venue Gwangju Biennale Hall , Gwangju Museum of Art, Gwangju Folk Museum
Host Gwangju Biennale Foundation , Gwangju Metropolitan City
Artistic Director Massimiliano Gioni (Director of Special Exhibitions at The New Museum In New York and Artistic Director Of The Nicola Trussardi Foundation, Milan)
10000 LIVES
The 8th Gwangju Biennale presents a sprawling investigation of the relationships that bind people to images and images to people. With works by more than 100 artists-realized between 1901 and 2010, as well as several new commissions-the exhibition will be configured as a temporary museum that brings together artworks and cultural artifacts to examine our obsession with images.
The exhibition title is borrowed from Maninbo (10,000 Lives), the yet unfinished, 30 volume epic poem by Korean author Ko Un. Conceived while Ko was in prison for his participation in the 1980 South Korean democratic movement, Maninbo comprises over 3,800 portraits in words, describing every person Ko Un has ever met, including figures from history and literature.
Encompassing a diverse range of media, with a particular emphasis on portraiture, the exhibition 10,000 Lives will engage our love for images and our need to create substitutes, effigies, avatars and stands-in for ourselves and our loved ones.
Exhibited works
Series of Vulnerable Arrangements – Concerns toward Personal Limits, 2009