Okayama Art Summit 2022: Do We Dream Under the Same Sky
September 30, 2022 – November 27, 2022
Tenjinyama Cultural Plaza, Orient Museum, Okayama, Japan
Installation view of Okayama Art Summit 2022: Do We Dream Under the Same Sky,Tenjinyama Cultural Plaza, Orient Museum, Okayama Shrine, Japan, 2022
Photo: Yasushi Ichikawa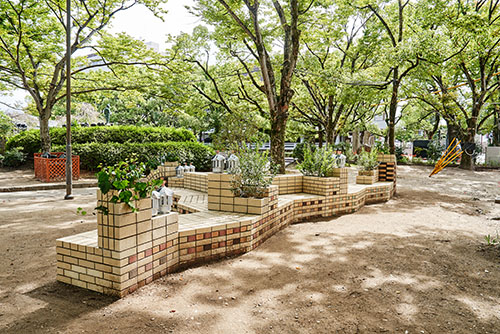 Haegue Yang's work frequently explores the geometries and modular systems that persist across various regions and eras, as recurring forms of visual language that unify otherwise disparate cultures. Under the title of An Opaque Wind, Yang has realized several related, outdoor architectural structures that function like small landmarks since 2015.
Commissioned by Okayama Art Summit, Yang has conceived a new brick sculpture in public space. Yang is drawn to the materiality of the brick as both universally available and locally in ected, and the size and proportion of the bricks in use dictates the process of the structure's design. Comprising towers of varying sizes and winding, double-sided benches, An Opaque Wind – Trifid Seating in Six Folds is located in an open area at Ishiyama Park.
Extending outward from a concave, hexagonal center, these brick benches enable different contemplative views of the natural and man-made surroundings. Made of clay- red bricks in tones of white, beige and grayish-brown (with accents of colorful concrete bricks throughout), the components of each bench are arranged in alternating patterns. Both the ornamental bricks and turbine vents were sourced domestically. The configuration of the benches and towers lies on a hexagonal matrix. e drawn shapes are extruded vertically, such that the work unfolds in a modular yet rhythmic manner. Used by Islamic designers and artisans since the seventh century, six-fold, symmetrical geometries symbolize perfection and a divine order made visible in the material world, manifested in the use of the hexagon to represent a universal being.
Unlike earlier iterations of An Opaque Wind, the recent structures integrate seating or beds for potted plants. The works emphasize holistic, environmental integrity and distinctive, modular geometries in equal measure. Meanwhile, the rotating turbine vent is evidence for the continuous movement of air around the piece, the forces that circulate within and beyond it.
Exhibited works
An Opaque Wind – Trifid Seating in Six Folds, 2022
Sonic Cosmic Rope – Gold Dodecagon Straight Weave, 2022
Sonicwear – Geometric Mitts, 2022-
| | |
| --- | --- |
| back to alphabetical order | back to chronological order |