Lacquer Paintings
1994-present
Blade Notations – Seed of E, E, E, E
2019
Chipboard, wood varnish, blades, seed, found plants, dust, insect, hair
35 x 25 x 2.3 cm
Courtesy of the artist
Photo: Studio Haegue Yang
Blade Notations – Triple Downward Score
2019
Chipboard, wood varnish, blades, found plants, dust, insects, hair
35 x 25 x 2 cm
Courtesy of the artist
Photo: Studio Haegue Yang
Installation view of Haegue Yang: Tracing Movement, South London Gallery, London, UK, 2019
Photo: Andy Stagg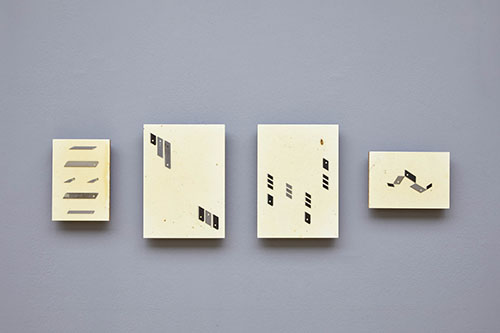 Central Raggedy – German Onions, 1 kg
2018
Chipboard, wood varnish, seeds, mesh produce bag, dust, insect, hair
70 x 50 x 2.6 cm
Courtesy of Kukje Gallery, Seoul
Photo: Studio Haegue Yang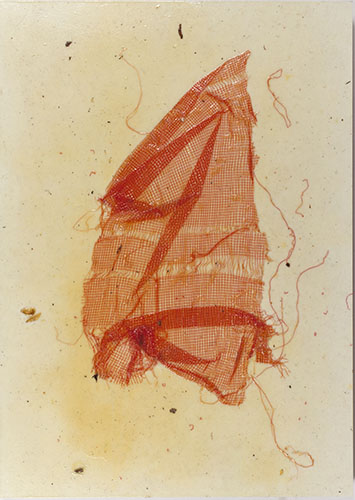 Frazzled in Brief – Organic Spanish Oranges, 1 kg
2018
Chipboard, wood varnish, seeds, mesh produce bag, dust
25 x 35 x 2.6 cm
Courtesy of the artist
Photo: Studio Haegue Yang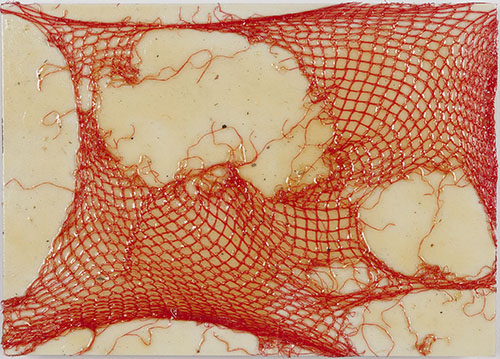 Navel – German Cucumbers, 250 g and German Potatoes, 1.5 kg
2018
Chipboard, wood varnish, seeds, mesh produce bags, dust, hair
50 x 35 x 2.6 cm
Courtesy of the artist
Photo: Studio Haegue Yang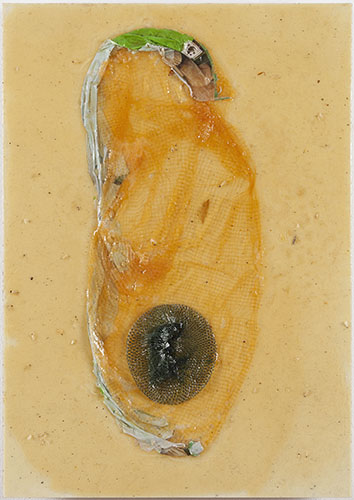 Spin and Lint – Organic Onions, 500 g
2018
Chipboard, wood varnish, seed, dust, graph paper, mesh produce bag parts, hair
35 x 25 x 2 cm
Courtesy of Galerie Barbara Wien, Berlin
Photo: Studio Haegue Yang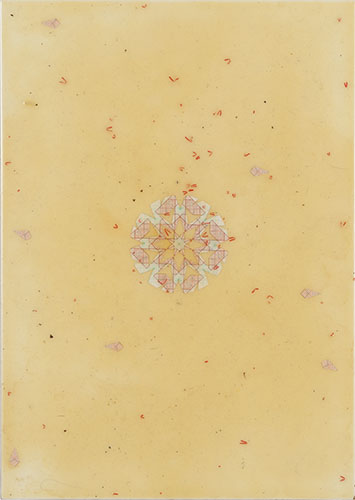 The Days of Being Wild
2015–2017
Chipboard, wood varnish, leaves, insects

75 x 55 cm

Courtesy of the artist

Photo: Studio Haegue Yang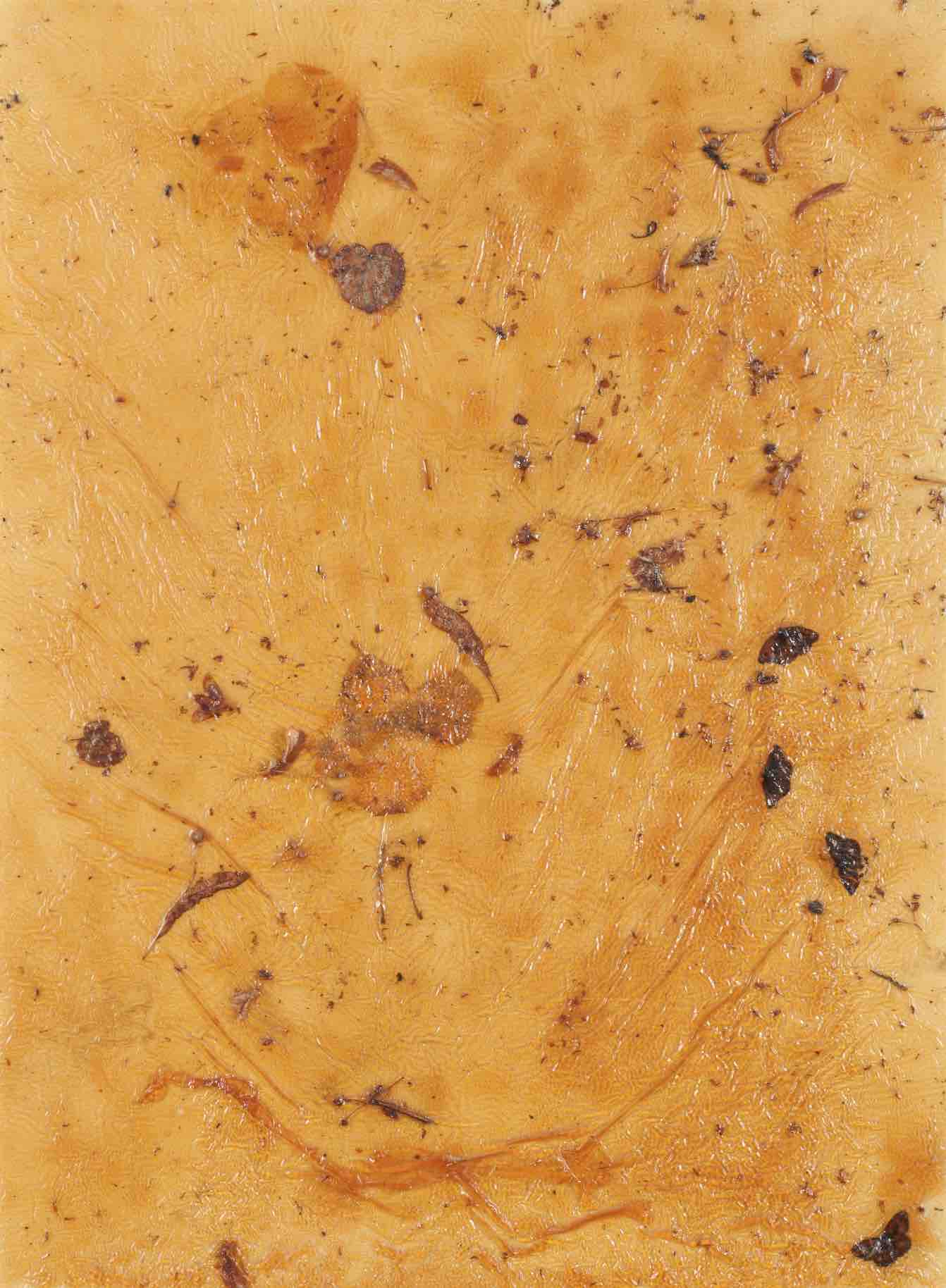 Three Times Counting
2017
Chipboard, wood varnish, found plants, dust, tobacco leaves

90 x 125 cm

Kyungsun Seo, Seoul

Photo: Keith Park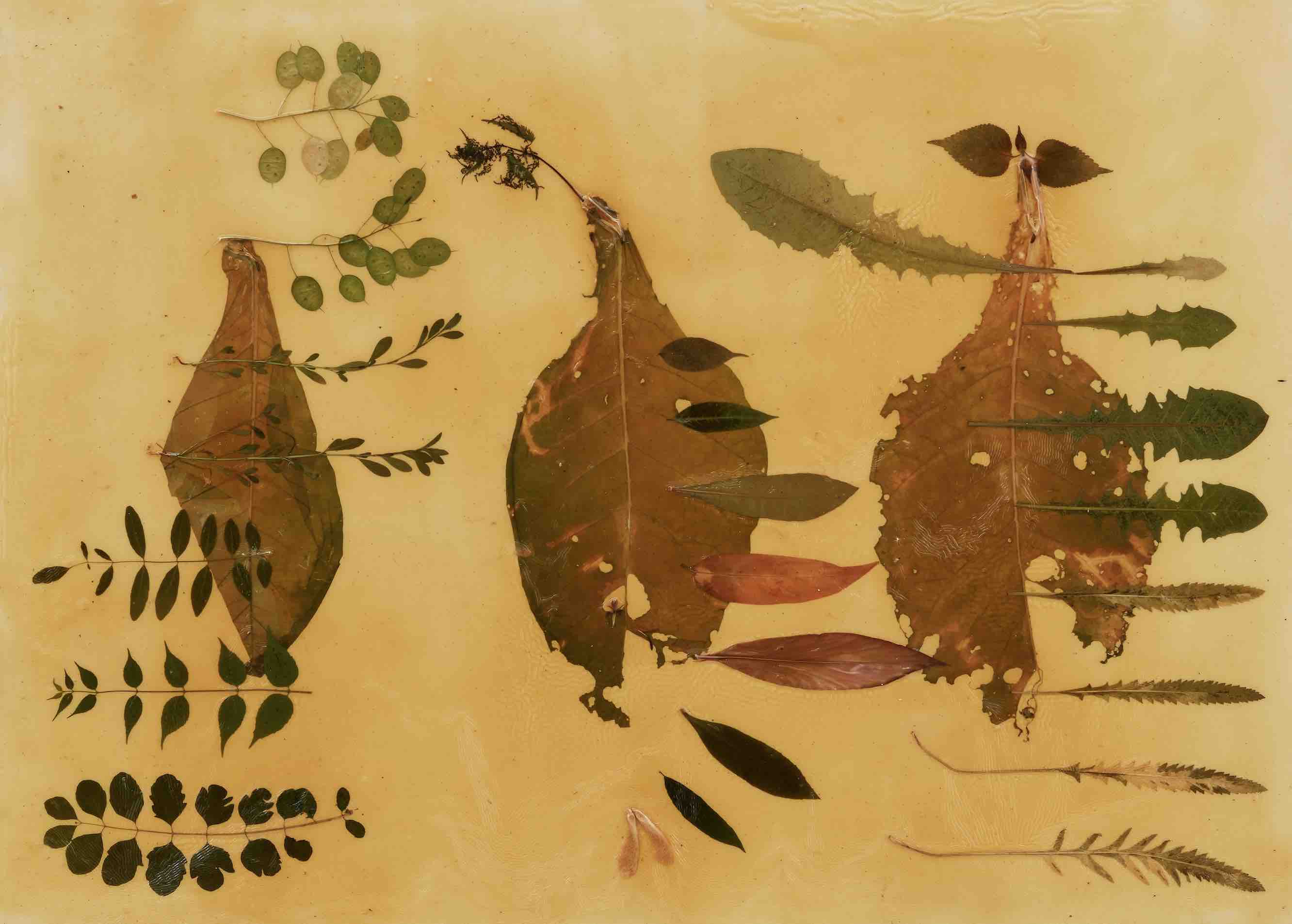 Feelers Swaying Downhill
2017
Chipboard, wood varnish, found plants, dust

50 x 35 cm

Courtesy of Kukje Gallery, Seoul

Photo: Keith Park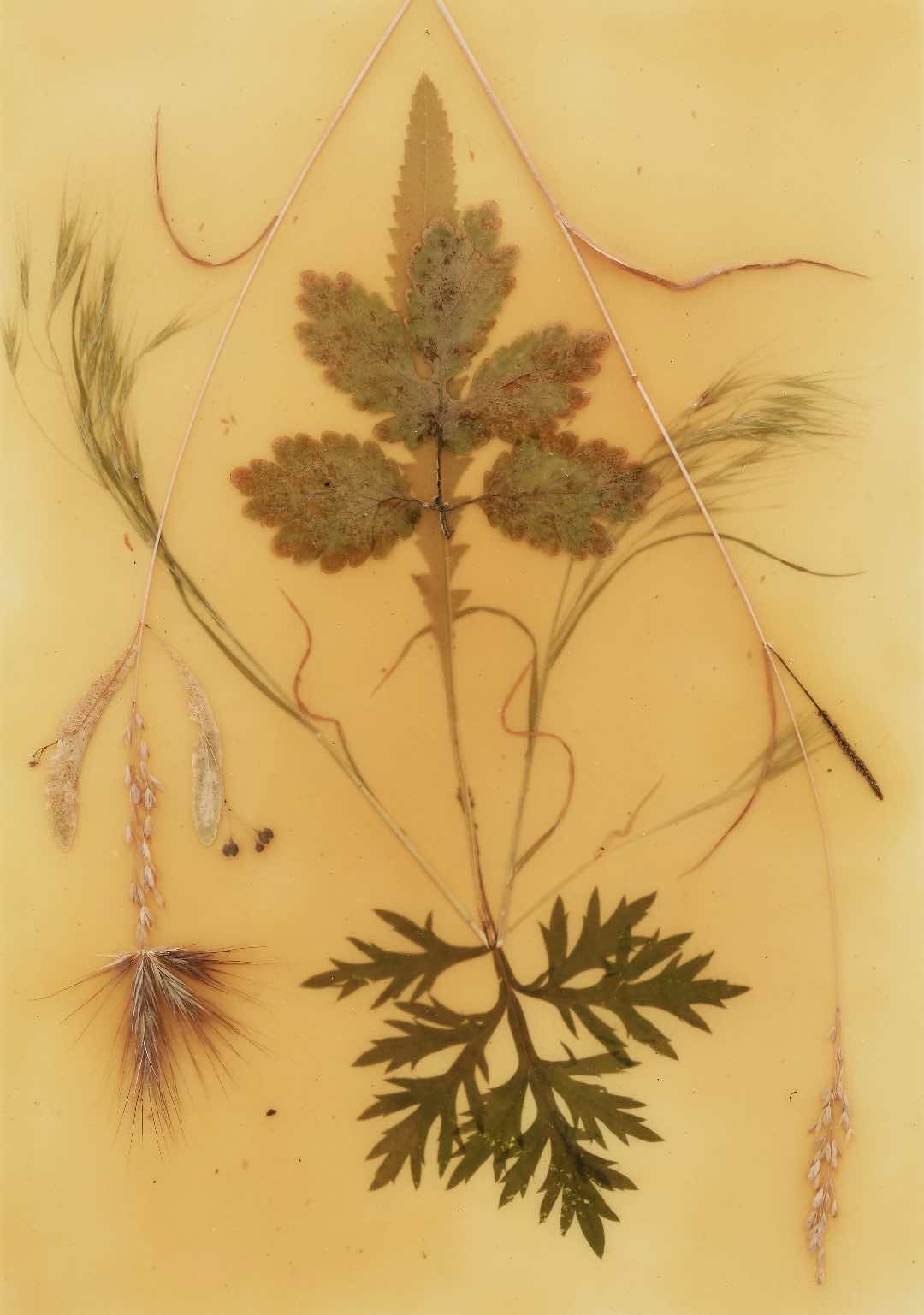 Creep and Crawl Dill Deco
2017
Chipboard, wood varnish, dill, found plants, dust

100 x 70 cm

Courtesy of Kukje Gallery, Seoul

Photo: Keith Park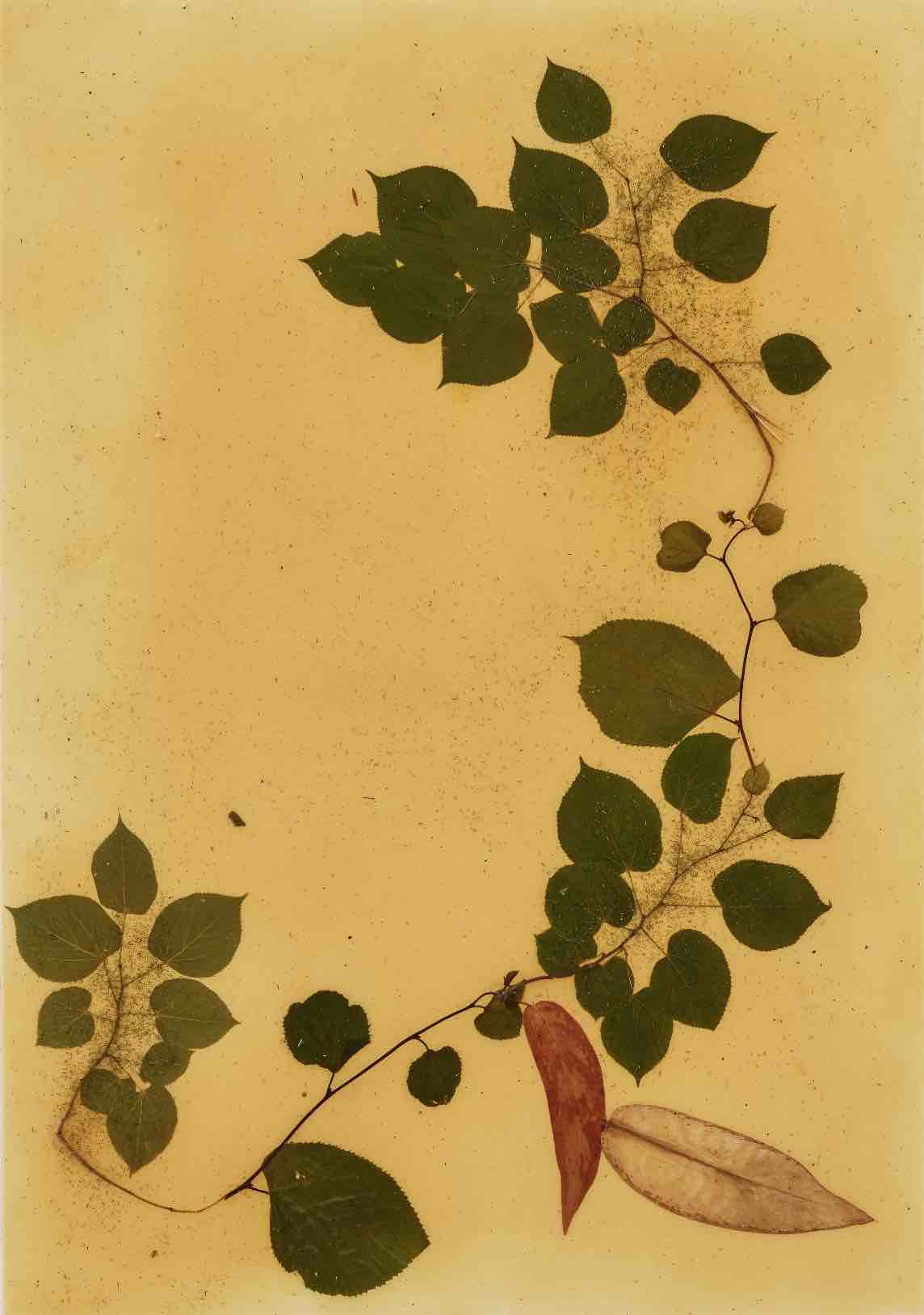 Giggly Jumbly Constellation in Seasoning Gradation
2017
Chipboard, wood varnish, found plants, dust, caraway seeds, red pepper

50 x 35 cm

Courtesy of Galerie Chantal Crousel, Paris

Photo: Studio Haegue Yang
Grafting Gone Aslant
2017
Chipboard, wood varnish, found plants, dust, tobacco leaves

90 x 63 cm

Courtesy of Galerie Chantal Crousel, Paris

Photo: Studio Haegue Yang
Crocodile Tears in Riverside Woods
2016
Wooden panel, wood varnish, sesame leaves, graph paper

30 x 100 cm

Courtesy of Galerie Barbara Wien, Berlin

Photo: Studio Haegue Yang

Old Crops – Sesame and Shiso in Lunar Halo
2016
Wooden panel, wood varnish, sesame leaves, shiso leaves, dust

60 x 45 cm

Private collection, Taiwan

Photo: Studio Haegue Yang
Rainy Twosome Crumbs
2016
Wooden panel, wood varnish, weeds, dust, graph paper

60 x 100 cm

Collection Dohmen, Aachen

Photo: Studio Haegue Yang
Tides Over Mess
2016
Wooden panel, wood varnish, knitting yarn, rubber band

125 x 90 cm

Courtesy of the artist

Photo: Studio Haegue Yang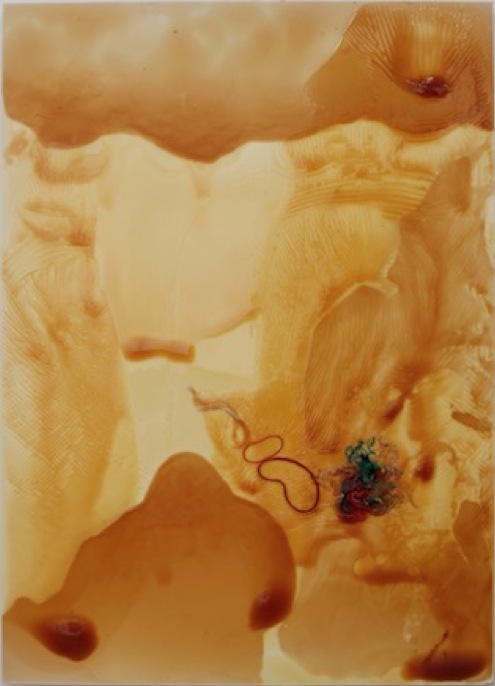 Wind on Water
2016
Wooden panel, wood varnish

58 x 75 cm

Private collection, Berlin

Photo: Studio Haegue Yang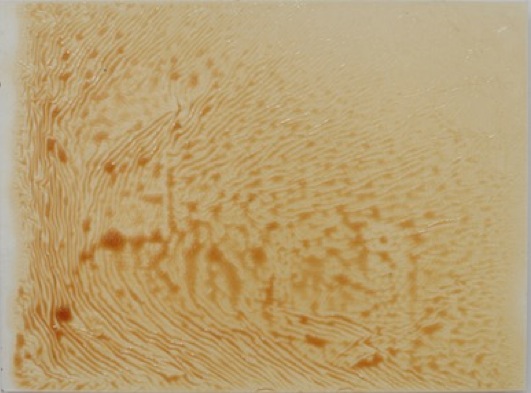 Installation view of Haegue Yang: ETA 1994–2018. Wolfgang Hahn Prize, Museum Ludwig, Cologne, 2018
Photo: Museum Ludwig, Saša Fuis, Cologne
Rainy Dirty
2012
Wooden panel, wood varnish, soil dust

46.8 x 30 cm

Courtesy of the artist
Photo: Mathieu Bertola, Musées de la Ville de Strasbourg
Rainy Chili
2011

Wooden panel, wood varnish, chilies

45 x 60 cm
Courtesy of the artist
Photo: Mathieu Bertola, Musées de la Ville de Strasbourg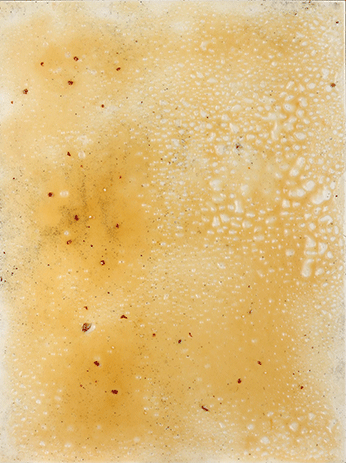 Seesaw Tarragon
2011

Wooden panel, wood varnish, tarragon

125 x 90 cm

Courtesy of Greene Naftali, New York
Photo: Mathieu Bertola, Musées de la Ville de Strasbourg
Rainy Stormy Tarragon
2011

Wooden panel, wood varnish, tarragon

125 x 90 cm

Private collection, Hong Kong
Photo: Mathieu Bertola, Musées de la Ville de Strasbourg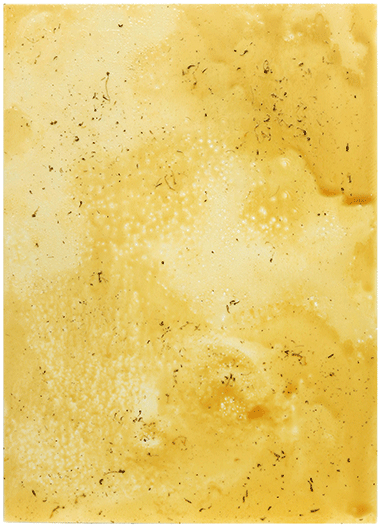 Lacquer Paintings
2011
Sesame Summer-Harvest

Lacquer painting, wood varnish and sesame leaves on wooden panel

125 x 90 cm
Courtesy of Galerie Barbara Wien, Berlin
Shiso Summer-Harvest

Lacquer painting, wood varnish and Shiso leaves on wooden panel

125 x 90 cm
Private collection, Stuttgart
Shiso Summer-Harvest – thin dripping

Lacquer painting, wood varnish and Shiso leaves on wooden panel

125 x 90 cm
Private collection, Berlin
Rain Gravity Mono I

Lacquer painting, wood varnish on wooden panel
125 x 90 cm
Courtesy of Galerie Barbara Wien, Berlins
Sesame Summer-Harvest – thin

Lacquer painting, wood varnish and sesame leaves on wooden panel

60 x 45 cm
Dohmen Collection, Aachen, Germany
Gravity Mono – Ikea Cupboard

Lacquer painting, wood varnish on wooden panel

57,5 x 56 cm
Private collection, Berlin
Installation view of About painting, art berlin contemporary, booth of Galerie Wien Lukatsch, Berlin, Germany, 2011
Photo: Nick Ash, Nozomi Tomoeda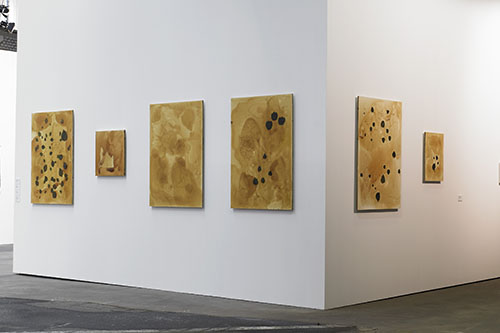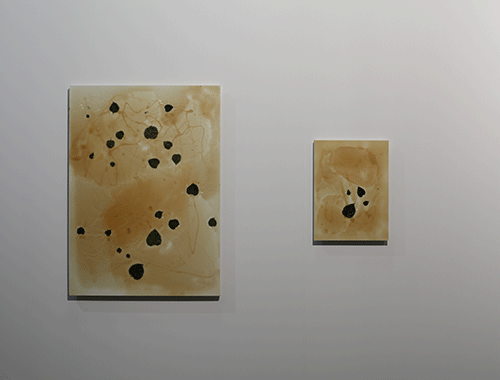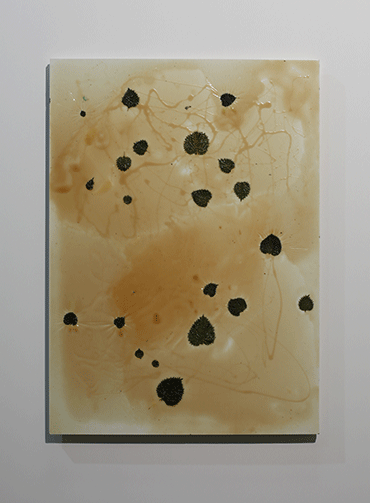 Lacquer Paintings
1999-2000
Wood varnish on wooden panel, graph paper, laser print, photocopies, photos, felt
Haubrok Collection (part of Storage Piece), Berlin
Untitled #1
58 x 52 cm

Untitled #2
24.3 x 56 cm

Lackbild 2000 (Untitled #3 in Storage Piece)
47.6 x 43.6 cm

Untitled #4
56.5 x 57.8 cm

Untitled #5
58 x 50.8 cm

Untitled #6
71.7 x 48.6 cm

Lackbild 2000 (Untitled #7 in Storage Piece)
62.8 x 46.5 cm

Untitled #8
54.1 x 71.6 cm

Untitled #9
57.8 x 51 cm

Untitled #10
59.5 x 48 cm

Untitled #11
65.3 x 54.7 cm

Puzzle #1 (Untitled #12 in Storage Piece)
31.7 x 57 cm

Puzzle #2 (Untitled #13 in Storage Piece)
31.7 x 53 cm

Puzzle #3 (Untitled #14 in Storage Piece)
31.7 x 55.3 cm

Puzzle #4 (Untitled #15 in Storage Piece)
31.7 x 57.1 cm
Installation view of Unpacking Storage Piece, Haubrokshows, Berlin, Germany, 2007
Photo: Ludger Paffrath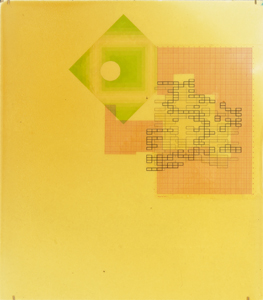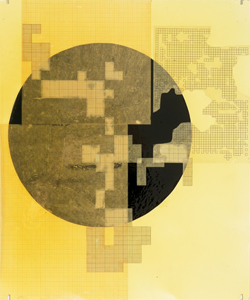 Fishing
1995

Wooden panel, wood varnish, thread, fish hook

40 x 32 cm

Courtesy of the Artist

Photo: Mathieu Bertola, Musées de la Ville de Strasbourg
Excerpt from exhibition guide of Double Soul, SMK – Statens Museum for Kunst, Copenhagen, Denmark, 2022
The Lacquer Paintings are varnished collages made of organic materials such as seeds and leaves combined with scraps and leftovers, including used knife blades, discarded packaging materials and paper cut-offs, from the artist's workspace. These unassuming everyday materials are fixed onto chipboard in floating compositions and sealed in place with thick layers of the most common household lacquer product. Yang began the series of lacquer paintings back in her art school days in the mid-1990s and continues to extend the series with new approaches.
Lacquerware is a more than 2000-year-old Asian craft tradition that holds an important place in Korean culture, where the technique reached a particularly high level of refinement. Traditionally, the lacquer was extracted from wood and applied in many layers on decorated surfaces, especially on wooden boxes with intricate mother-of-pearl ornamentation. In Yang's version, the exquisite and precious traditional materials were replaced with standard or scrap ones, and the compositions are casual and accidental.
As the most inexpensive wooden varnish deliberately employed gives off a noxious smell, the Lacquer Paintings are left for weeks or months outdoors to dry. During this drying process, unintentional elements such as insects, dust and hair become stuck on the surface and occasional raindrops additionally leave their imprints on it. Taking her point of departure from an ancient craft tradition steeped in culture is emblematic of Yang. Her recent lacquer works also point towards her own time: here, everyday materials, random events, direct evidence of the daily production process and the setting in which it took place all become important and visible parts of these painterly panels.
Exhibition history
Double Soul, SMK – Statens Museum for Kunst, Copenhagen, Denmark, 2022
Tracing Movement, South London Gallery, London, UK, 2019
ETA 1994-2018, Museum Ludwig, Cologne, Germany, 2018
Quasi-Pagan Serial, Hamburger Kunsthalle, Hamburg, Germany, 2016
Come Shower or Shine, It Is Equally Blissful, Ullens Center for Contemporary Art, Beijing, China, 2015

Family of Equivocations, Aubette 1928 and Museum of Modern and Contemporary Art, Strasbourg, France, 2013

Arrivals, Kunsthaus Bregenz, Bregenz, Austria, 2011
Your Bright Future: 12 Contemporary Artists from Korea, LACMA, Los Angeles, Museum of Fine Arts, Houston, USA, 2009
Unpacking Storage Piece, Haubrokshows, Berlin, Germany, 2007