Tectonic Undulations – A Fugue for the Great Wilderness
Haegue Yang in collaboration with Conny Purtill
2020
Digital color print on self-adhesive vinyl film
Dimensions variable
Courtesy of the artists
Commissioned by the Art Gallery of Ontario, Toronto
Installation view of Haegue Yang: Emergence, Art Gallery of Ontario, Toronto, Canada, 2020
Photo: Art Gallery of Ontario, Toronto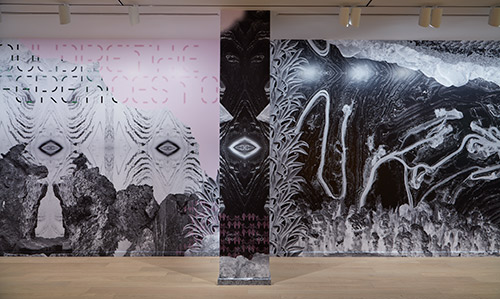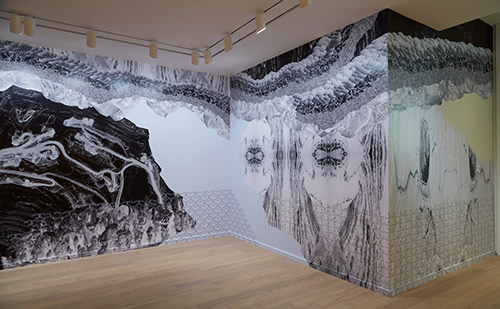 Acknowledging the absence of commonness among us could be the very tie that bonds us. This can provide a ground for our differences to co-exist.
—Haegue Yang
Haegue Yang has been creating wallpapers since 2011, upon seeing the extraordinary potential in the medium of wallpaper to create otherworldly envronments within the plain white cube of a gallery space.
Located at the South Entrance of AGO, towards the newly renovated Grange Park, Tectonic Undulations – A Fugue for the Great Wilderness was conceived as part of Yang's solo, Emergence (October 1, 2020 - April 5, 2021) and has remained for a longer public viewing.
The wallpaper's layered visual motifs were inspired by Canada's history of environmental and economic developments as well as an ancient Chinese book. When considering the dependence of the Toronto Stock Exchange on mining and oil and gas companies, the artist began to explore resource extraction. Images of crystals from the collection at the Royal Ontario Museum feature in the wallpaper and refer specifically to Canada's extractive industry, drawing attention to its impact on the environment as well as its industrial history at the core of the nation's foundation.
The devastated landscape is populated by fantastical creatures: gods and deities from the Classic of Mountains and Seas, an ancient book fundamental to Chinese mythology, geology, biology, and cosmology. By juxtaposing a wholistic classical worldview that promoted Taoistic cohabitation with nature with the violence of resource extraction in Canada and around the world, this work highlights the systems contributing to the global environmental crisis. Tectonic Undulations – A Fugue for the Great Wilderness was made in collaboration with Conny Purtill, who was commissioned to design the exhibition catalogue Haegue Yang: Emergence (AGO, Toronto and Prestel/DelMonico Books, Munich, London, and New York; 2021).
Exhibition history
Haegue Yang: Emergence, Art Gallery of Ontario, Toronto, Canada, 2020
| | |
| --- | --- |
| back to alphabetical order | back to chronological order |