Air and Water
2002
2 sets of metal shelving manufactured by Otto Kind AG

Each 230 x 100 x 30 cm

Haubrok Collection (part of Storage Piece), Berlin


Installation view of Luft und Wasser, Dresdner Bank, Frankfurt am Main, Germany, 2002
Photo: Wolfgang Günzel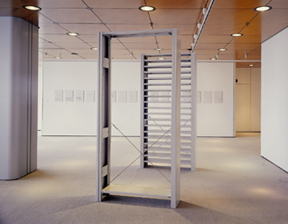 Artist's statement:
1. Air and water, what can one initially associate with them? Perhaps two vital elements?
Or what the earth consists of?
2. There's a corner at a petrol station for pumping air and filling water. A neon sign
designates this corner (like diesel and petrol): air and water.
3. Why have I never before regarded these words as so profound? What a strange inner
distance to everyday things and daily repetitions.
4. Two equally high plug-in shelf racks are placed in the exhibition space. One has very
many shelves to store a lot of things – no, there are in fact too many shelves for it to be
useful. The other has only the number required for it to stand. This metal shelf system
of the company Otto Kind is an industrial system and the construction and the materials
are conceived according to its purpose and utilisation. With their different numbers of
shelves, the two storage areas are arranged in an equally dysfunctional way regarding the
original intention of usage.
5. The social activity and influence of a person is all too easily altered and assessed in a
modified way, even under- or overestimated depending on the social situation. But is a
complex and at the same time autonomous judgement of an individual even possible in
this context? Air and water, consisting of metal rack modules, would be an unavoidably
paradoxical statement of a feeling of intimacy and isolation in face of the life of a person.
Exhibition history
Unpacking Storage Piece, Haubrokshows, Berlin, Germany, 2007
Luft und Wasser, Dresdner Bank, Frankfurt am Main, Germany, 2002



| | |
| --- | --- |
| back to alphabetical order | back to chronological order |