Furnitury Objects – Students' union Satie
2000
Found objects: ensemble of three pieces of furniture: coffee table, bench, chair and three
accompanying texts
75 x 60 x 52 cm
45 x 100 x 35 cm
72 x 36 x 36 cm
Haubrok Collection (part of Storage Piece), Berlin


Photo: © Galerie Barbara Wien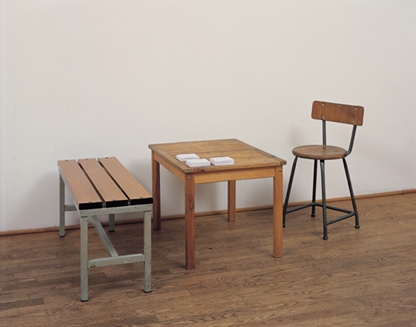 This work comprises three found or borrowed objects that convey my thoughts on possibilities of furnishing, and which function as furniture at the art fair. During the course of three weeks, I searched for and found the individual objects in the city. The table was found among bulky refuse put out on the street in Frankfurt to be collected. There is a marker drawing on it, probably from a child. The chair is from the personal belongings of a friend and hadn' t been used for quite some time. The bench belongs to a Frankfurt theatre group; it was with their door-keeper. The three texts accompanying this work examine various aspects of the objects. The respective texts are numbered, photo-copied on both sides, and laid out as flyers on the table.
Important references for my project are the furnishings in the rooms of the Students' Union and the rooms accommodating pupil participation in school administration. Although these rooms are often furnished with old bourgeois furniture, the spaces claim the opposite: self-realization, provocation, and adventure. This change is facilitated by the distance the persons furnishing keep to the origin of the objects and by their dealing with these found objects in a freer way. They prefer realizing their inner needs rather than being impeded by the usual representational functions. In other words: this democratic and personal statement on aesthetics stems from profound conviction and orientation towards the self.
Erik Satie composed a piece of music called "Furniture Music". It is a long, minimal piece consisting of a sequence repeated over and over again. After a while, the music fills the space, ultimately merging with its environment to become an integral part of the room. This transformation is something that at Satie' time, without the means of mechanical reproduction, was hard to realize. This concept, then as an abstract reflection on a piece of music as a piece of furniture, standing in the room as a matter of course highlights many new aspects of an object in a room as a completely natural existence.
Every day I come upon unexpected, amazing arrangements of objects temporarily placed in public space. These unintentionally created arrangements possess a natural, inspiring, matter-of-course type existence. Among the many different forms of such arrangements, one scenario is striking: bulky refuse ready for collection. The individual objects often show personal and social traces. Their combination acquires a further specific hybridism due to the different origins of the objects. The visual quality is only slightly different than that of other heaps of refuse, which appear all too real. This quality can be compared to the meaning Richard Hoggart gave to old workers' magazines in England. In his Text "The Real World of People: Illustrations from Popular Art-Peg´s Paper", he analysed the difference between high-gloss mainstream magazines and the older working-class magazines. According to him, the much loved older magazines gained authenticity through their true-to-life qualities, as opposed to the exaggerated and sly high-gloss magazines reporting on mass culture and celebrities.


Exhibition history
Your Bright Future: 12 Contemporary Artists from Korea, LACMA, Los Angeles, Museum of Fine Arts, Houston, USA, 2009
Unpacking Storage Piece, Haubrokshows, Berlin, Germany, 2007
Frankfurter Kreuz, Schirn Kunsthalle, Frankfurt am Main, Germany, 2001



| | |
| --- | --- |
| back to alphabetical order | back to chronological order |