Between Reason and Critique
2002
Light installation with fluorescent tubes
Courtesy of the artist


Installation view of Manifesta 4, European Biennial of Contemporary Art, Frankensteiner Hof, Frankfurt am Main, Germany, 2002
Photo: Jörg Baumann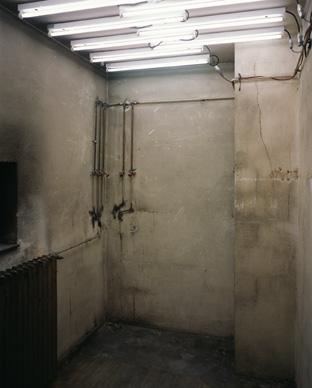 Press release, Manifesta 4, 2002

1. My work is often based on an insight made in everyday experience, an insight that until then counted neither as a discovery nor as an object of contemplation. For me, though, this discovery was significant because I was able to draw certain parallels to known situations or generally valid facts. Through this, I recognised new values, even though this parallel was very vague and the connection fragile. I usually process my perceptions impartially, but the result is something I can work with.
2. One night I saw a corner that was totally illuminated. There was no obvious reason for this, but it was very beautiful and satisfying.
3. An unrenovated back side is simply illuminated so that one can finally see everything. At times, the light goes out so that the original, pretty dark state can also be perceived.
4. For this light installation the title "Between Reason and Critique" was chosen, which originated from the comment of one TV news moderator on the recent situation in Israel.
1. Meine Arbeit basiert oft auf einer Erkenntnis mitten in der alltäglichen Erfahrung, die bisher weder als Entdeckung galt noch Gegenstand einer Betrachtung war. Mir war diese Entdeckung aber bezeichnend weil ich darin gewisse Pararellen zu schon bekannten Situationen oder allgemein gültigen Tatsachen sehen konnte und dadurch neue Werte erkannt habe, selbst wenn diese Pararelle sehr vage und die Verbindung fragil ist. Ich bearbeite meine Wahrnehmung meistens wertungsfrei, aber das Ergebnis ist doch handlungsfähig.
2. Eines Nachts habe ich eine Ecke gesehen, die ganz hell beleuchtet war. Es gab dafür keinen erkennbaren Grund, aber es war sehr schön und befriedigend.
3. Eine nicht renovierte Abseite ist einfach nur hell beleuchtet, so dass man endlich alles sehen kann. Das Licht geht manchmal wieder aus, damit der ursprüngliche, ziemlich dunkle Zustand auch wahrnehmbar ist.
4. Für diese Lichtinstallation wurde der Titel "Zwischen Verstand und Kritik" gewählt.


Exhibition history
Manifesta 4, European Biennial of Contemporary Art, Frankensteiner Hof, Frankfurt am Main, Germany, 2002



| | |
| --- | --- |
| back to alphabetical order | back to chronological order |