... where everything was painstakingly ordered and at its place
2002


2 sets of metal shelving manufactured by Otto Kind AG on wooden ramp

230 x 120 x 90 cm
Haubrok Collection (part of Storage Piece), Berlin


Installation view of Manifesta 4, Frankfurter Kunstverein, Frankfurt am Main, Germany, 2002
Photo: Axel Stephan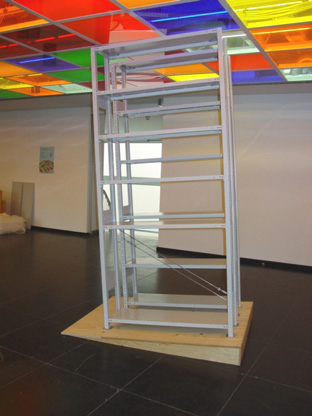 In a large hall of the Kunstverein, where artists' materials collected during the research journeys of the three curators of Manifesta 4 are exhibited, there is a rack standing visibly inclined on a ramp-like wooden construction. The artist's work is frequently based on real situations. This sculptural work, too, refers to a street scenario in which objects are supported by various means such as bricks or concrete so that they stand straight. Contrary to that, this rack is deliberately tilted with an additionally created aid.
What is interesting here is the interrelationship between the slight inclination and the height of the object placed on it. Only because the rack has an "appropriate" height can it remain standing on such a slope; it would fall over if it were only a bit higher.
Although the unavoidable relationship between the elements highlights cause and effect in an impartial way, as it were, the result is an autonomous sculpture.
MANIFESTA 4, Frankfurt am Main, 2002


Exhibition history

Your Bright Future: 12 Contemporary Artists from Korea, LACMA, Los Angeles, Museum of Fine Arts, Houston, USA, 2009

Unpacking Storage Piece, Haubrokshows, Berlin, Germany, 2007

Manifesta 4, Frankfurter Kunstverein, Frankfurt am Main, Germany, 2002


| | |
| --- | --- |
| back to alphabetical order | back to chronological order |