Kochi-Muziris Biennale 2022
December 12, 2022 – April 10, 2023
Aspinwall House, Kerala, India
Installation view of Kochi-Muziris Biennale 2022, Aspinwall House, Kerala, India, 2022
Photo: Kochi Biennale Foundation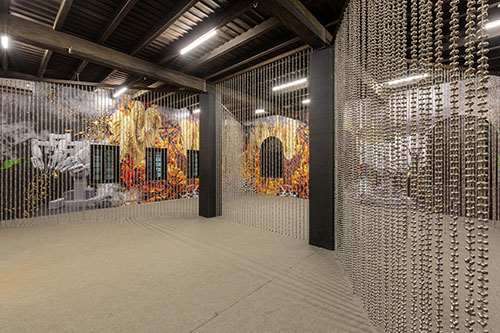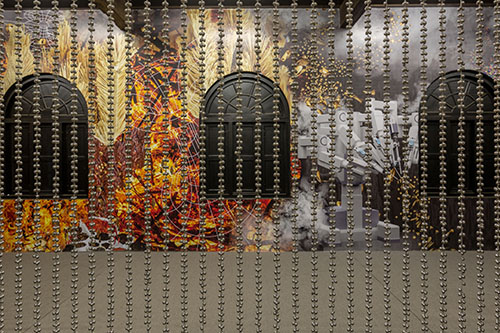 Spanning a vast range of media—from paper collage to performative sculpture to room-scaled, multisensory installations—Haegue Yang's work links disparate histories and traditions in a visual idiom all her own. Attempting to communicate with her viewers through nonverbal, abstract methods, the artist mobilises a variety of craft techniques and materials, extracting them from their familiar contexts to impart relevant socio-historical and contemporary significance.
Since 2013, metal bells have figured prominently in Yang's sculptures. Her Sonic Sculptures are informed by diverse ritual uses of bells; from Korean shamanism to European pagan customs, their sound has served to intercede between the human and spirit realms. Yang's inquiry delves into the resilient status of those folk traditions which, while often marginalised, have persisted over centuries, and this abiding interest is reflected in Yang's Sonic Sculptures as well as in other categories of her works.
Commissioned for the fifth Kochi-Muziris Biennale, Sonic Droplets – Steel Buds (2022) consists of more than 100,000 stainless steel bells. Installed in the historic Aspinwall building, the five-part curtain divides the room into four distinct transitional sections, while incorporating two columns within its sonic field. Viewers may walk through the curtain, and their movements activate the bells, creating rattling sounds analogous to the aural natures of multiple ritualistic practices, both spiritual and secular.
Sonic Droplets – Steel Buds is surrounded by the expansive wallpaper Incubation and Exhaustion (2018). The wallpaper reflects Yang's long-standing interest in European pagan culture and folklore. Inspired by the cultural traditions and development of the tech industries in Occitania in the south of France, Incubation and Exhaustion brings together a nonhierarchical and anachronistic array of elements, including the flux of chilies and garlic, flames, fog or smoke, medical surgical robots, straw, and bells.
Exhibited works
Sonic Droplets – Steel Buds, 2022
Incubation and Exhaustion, 2018