«동음이의어들의 가계»
2013년 6월 8일 - 9월 15일
오베트 1928, 스트라스부르 근현대미술관, 스트라스부르, 프랑스
«동음이의어들의 가계» 전시 전경, 오베트 1928, 스트라스부르 근현대미술관, 스트라스부르, 프랑스, 2013
사진: Mathieu Bertola, Musées de la Ville de Strasbourg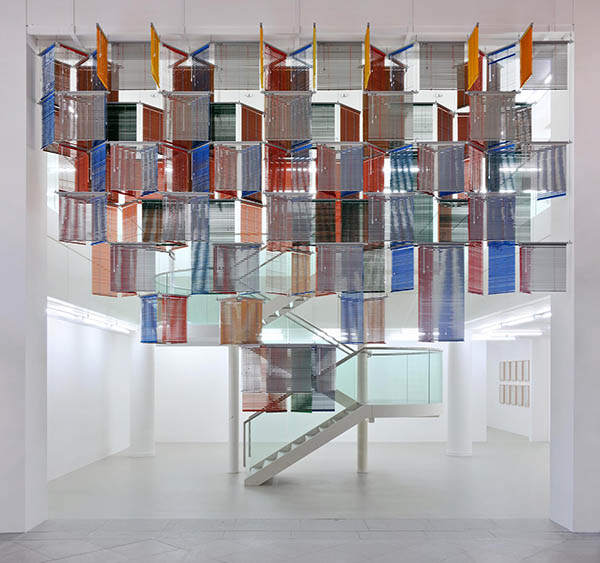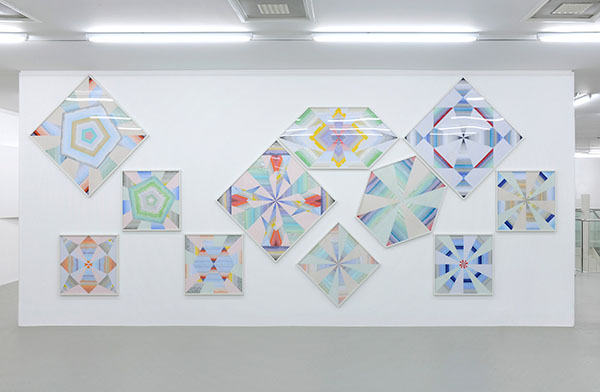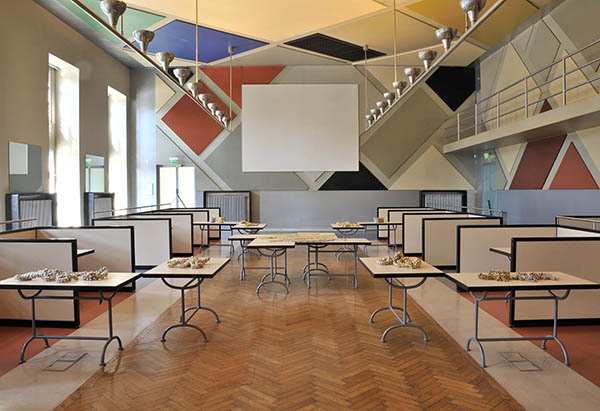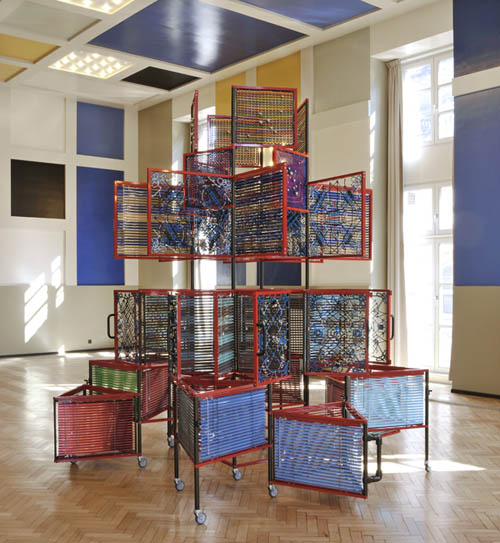 보도자료
Haegue Yang's first large scale institutional exhibition in France features across two venues: Aubette 1928, a modernist leisure complex with an interior designed by Theo Van Doesburg, Jean Arp and Sophie Taeuber-Arp (completed in 1928), and the Museum of Modern and Contemporary Art. Yang's work is irresistible in its originality and intricate blend of strength and delicacy. By building on multiple, self-reflexive references to cultural, social and political history as well as reinterpreting archetypal forms of the historical avant-gardes, she creates work of protean unconventionality.
In the Ciné-Dancing at the Aubette, Yang is showing a group of Sonicwears (2013) which visitors may activate by wearing them. In the Salle des Fêtes one can find two Dress Vehicles (2012), mobile sculptures consisting of Venetian blinds, bells, knitting yarn and macramé. These recall the costumes of Oskar Schlemmer's Triadic Ballet and Sophie Taeuber-Arp's marionettes, evidence of Yang's appropriation of the formalistic vocabulary of the historical avant-gardes. At the same time, such citations always remain discrete, even as they strengthen the emotionality elicited by her installations. One such installation, Blind Curtain – Flesh behind Tricolore (2013), built with aluminium Venetian blinds, leads visitors into the exhibition space at the Museum of Modern and Contemporary Art and into Yang's uniquely constructed language and methods of expression. The use of manufactured industrial products and recycling strategies, such as the insides of envelopes reused in the Trustworthies Collages (ongoing since 2010, a new series has been produced for this exhibition and is inspired by Sophie Taeuber-Arp and Emma Kunz), combines with poetically conceived geometric composition in a finely wrought alloy of the commonplace and the extraordinary. As an emblem of this poetry of the commonplace, the clothing rack motif is presented as the focus of the photographs in Gymnastics of the Foldables (2006), thereby unfolding its full formal potential. Objects thus occupy a special place in Haegue Yang's corpus. She gives them protagonist roles (Non-Indépliable, azuré , 2010), highlights their otherwise unobserved beauty (Hardware Store Collage s, 2013) or deforms them in Non-Foldings – Geometric Tipping (2013) and Imperfections (2010).
During a time when society is facing economic, political and social uncertainties, Haegue Yang presents a new view of art on society. Haegue Yang (born in Seoul in 1971, currently lives and works in Berlin and Seoul), represented South Korea at the Venice Biennale in 2009. A series of international exhibitions have been devoted to her work, for instance at the New Museum in New York (2010), the Kunsthaus Bregenz, the Modern Art Oxford and the Arnolfini in Bristol (2011). In 2012 she took part in dOCUMENTA (13) in Kassel, and her monumental installation for the yearly commission at Haus der Kunst in Munich remains on view until September this year.
This exhibition will be accompanied by the first bilingual French-English catalogue on Haegue Yang's work, containing an interview with the artist by Camille Giertler and Estelle Pietrzyk, as well as contributions by Patricia Falguières and Doryun Chong, together with French translations of texts and interviews by Anne Wagner, Binna Choi, Eungie Joo, Doryun Chong, and Yilmaz Dziewior.
전시 작품:

거울 연작 – 등, 2006/2007
비非–접기, 2007

비非–접힐 수 없는 것들 – 옥색, 2010

신용양호자들, 2010-현재

실 설치, 2000-2011

의상 동차動車, 2011-2012
이모저모 토템, 2013

접힐 수 있는 것들의체조, 2006

직업 연습, 마이너스 2002 #1, #2, 2002/2011