Alien Colloquial
2022
Digital color print on self-adhesive vinyl film
Dimensions variable
Courtesy ofthe artist
Installation view of Haegue Yang: Quasi-Colloquial, Pinacoteca de São Paulo, Brazil, 2023
Photo: Isabella Matheus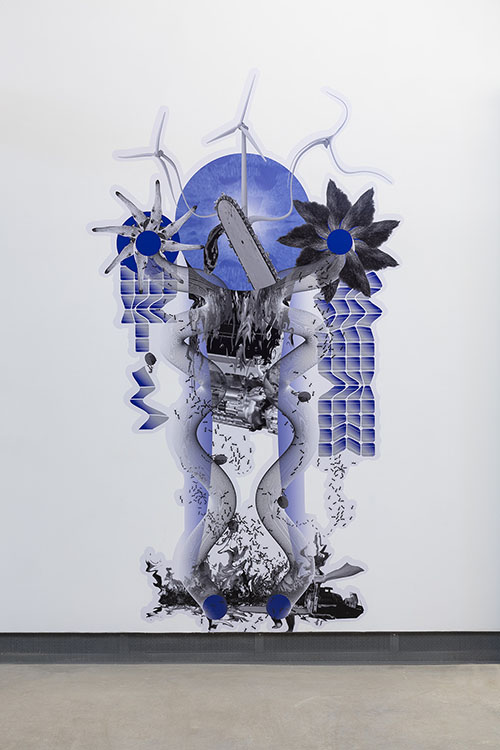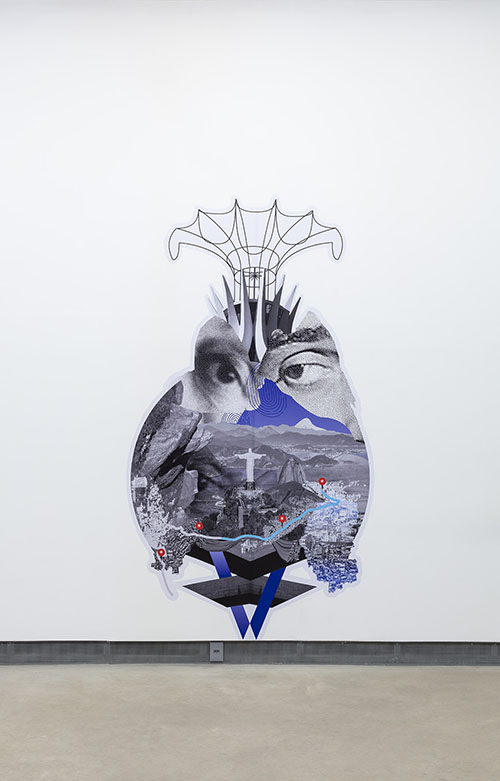 Press release excerpt from Quasi-Colloquial, Pinacoteca São Paulo, Brazil, 2023
Yang's artistic process goes through meticulous research, as is evident in the immersive wallpaper Alien Colloquial (2022), a work composed of large abstract collages and developed especially for this exhibition. Each collage focuses on a different theme; however, following a recurrent strategy in the artist's work of preserving a certain hybridity, there is a fragmentation of the incorporated motifs. Expanding to themes such as art and architecture, nature, immigration, crime, music, and dance, the artist took the conception of Alien Colloquial as an opportunity to dive into an eclectic and subjective study on Brazil from the perspective of a foreigner.
Thinking about what the artist called "a territory of untamed," she invites the viewer to consider how artists travel through time and geography without conquering anything; a very different act of traversing. In the pieces, Yang makes collages that gathers images of the eyes, ears, and hands of personalities such as Tomie Ohtake, Mira Schendel, Lygia Clark, Cildo Meireles, Lina Bo Bardi, Oscar Niemeyer, Caetano Veloso, and Maria Bethânia, forming a mosaic in which we observe Hello Kitty, landscapes, animals and tropical fruits, instruments and machines, among other objects and scenes.
"There are powerful dialogues between Haegue Yang's production and the history of Brazilian art, which has a long tradition of exploring the relationship between the art object and everyday life. Yang's practice, however, uses other transformational strategies. Her art manages to point to social, cultural and economic structures, proposing alternative linguistics, as well as new possibilities of transposition, translation, and appropriation", explains Jochen Volz, general director of the Pinacoteca.
Exhibition history
Quasi-Colloquial, Pinacoteca São Paulo, Brazil, 2023
| | |
| --- | --- |
| back to alphabetical order | back to chronological order |