A Chronology of Conflated Dispersion – Duras and Yun
2018
Subjectively edited biography of two historical figures
Dimensions variable
Courtesy of the artist
Installation view of Chronotopic Traverses, La Panacée - MoCo, Montpellier, France, 2018
Photo: Marc Domage, La Panacée - MoCo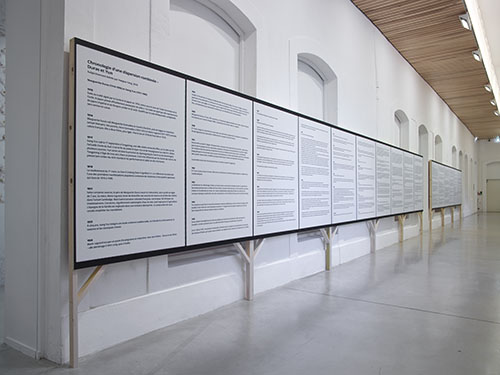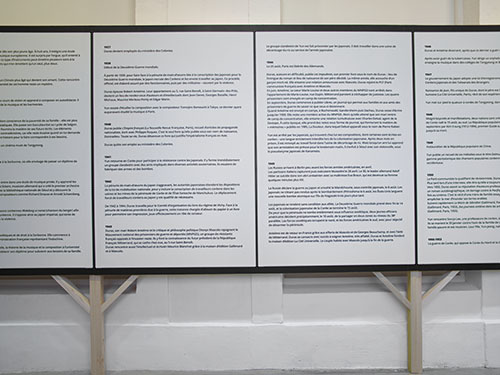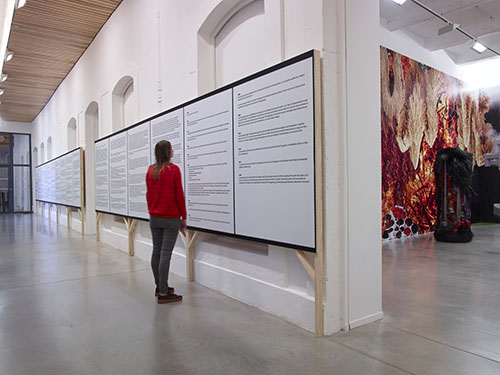 Excerpt from exhibition guide of Double Soul, SMK – Statens Museum for Kunst, Copenhagen, Denmark, 2022
Yang's two text-based works A Chronology of Conflated Dispersion – Duras and Yun and A Chronology of Conflated Dispersion – Duras and Orwell bring together three figures from history: the French author Marguerite Duras (1914–1996), the South Korean composer Isang Yun (1917–1995) and the English author George Orwell (1903–1950). The text works unfold as chronological examina- tions of incidents in the lives of the three persons entangled/intertwined with the colonisation of Asian countries and the Cold War, among other historic events. The two works offer an opportunity to enter and connect the complex and compelling lives of these historic persons that, at the same time, reflect on Yang and her complex ties to Asia and Europe alike.
Duras grew up in Vietnam (then part of the French colony of Indochina), where her parents worked as teachers for the French colonial authorities. Her father died when Duras was still very young, and the family subsequently lived in poverty, occupying an outsider position – both in relation to the colonial au- thorities and the colonised. For most of her adult life, Duras lived in France, but often wrote about her childhood in Vietnam and issues of belonging/not belonging.
Yun was born in present-day South Korea, which was colonised by Japan until 1945. He studied in Korea and Japan before moving to Europe at the age of 39 to study music. He later became a German citizen, and his dual national affilia- tions had a major impact on his compositions, which are a fusion of traditional Korean and Western avant-garde music.
Orwell was born into a colonial family in Myanmar (the then British colony of Burma), where his father was employed in the opium department of the British Empire. As a young man, Orwell himself served as an officer in the Indian Imperial Police before deciding to become a writer, adopting a very critical stance on imperialism.
Exhibition history
Double Soul, SMK – Statens Museum for Kunst, Copenhagen, Denmark, 2022
In the Cone of Uncertainty, The Bass Museum of Art, Miami Beach, USA, 2019
Chronotopic Traverses, La Panacée - MoCo, Montpellier, France, 2018
| | |
| --- | --- |
| back to alphabetical order | back to chronological order |