Accommodating the Epic Dispersion – On Non-cathartic Volume of Dispersion
2012
Aluminum Venetian blinds, aluminum hanging structure, powder coating, steel wire

Dimensions variable
Courtesy of Galerie Chantal Crousel, Paris and Kukje Gallery, Seoul


Installation view of Der Öffentlichkeit – von den Freunden Haus der Kunst, Haus der Kunst, Munich, Germany, 2012
Photo: Nozomi Tomoeda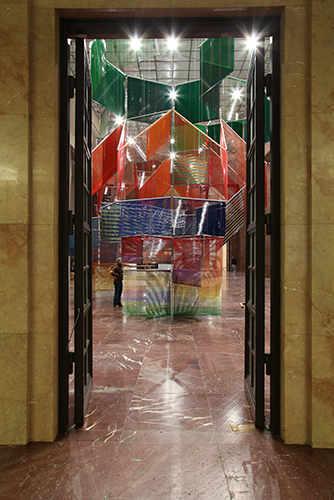 Press release
What makes us move? How does movement affect us? When do we feel moved? Is a movement mental or physical? When we migrate, do we lose our sense of home? How do we maintain and accommodate our migratory destinies and narratives?
Haegue Yang's concern with such questions becomes apparent in her installation for Haus der Kunst in that it directs the viewers' movements. Depending on the angle of approach, the blinds appear either opaque, semi-opaque or completely transparent. The visual experience thereby is continually transformed, evoking comprehension and incomprehension. In the midst of this, Yang inserted a single standpoint at the rear of the space from where the whole installation can be viewed in a perfect half-transparency, while strong spot lights face away towards the main entrance.
Accommodating the Epic Dispersion – On Non-Cathartic Volume of Dispersion is a lengthy title that Haegue Yang consciously chose in response to the large scale of the Middle Hall. She fills the space with complex multi-layered blind structures that stand for the epic dimensions of the narratives lived by figures of diaspora such as Korean-Japanese essayist Suh Kyungsik, who explored the destiny of Koreans in Japan, as well as the life of Italian-Jewish chemist and author Primo Levi, who wrote extensively about his Holocaust experience as well as Jewish life in Piemont. Yang's reading of their biographies is reflected in her emphatic use of the word dispersion in the work's title.
The enormity and complexity of this subject is fused in both the physical appearance and the metaphorical levels of Yang's work: towering structures as an accumulation of narratives; unattainability as the remoteness of history; transparency as a model for self-examination; and translucent overlapping as the compatibility of diverse destinies. The entire conglomerate superimposes itself onto the monumental space of the Middle Hall, which served as a cultural-political platform during the National Socialist regime.
Aiming to articulate the entire volume of the space, the blinds cluster into three distinctive geometric chapters that alternate with open spaces, while the floor is barely occupied. A spatial rhythm emerges as waves of color flow from one complimentary hue to another, employing the entire available color palette of industrially manufactured, yet customized blinds. Viewed from the entrance, strictly directed and confrontationally blinding spotlights bathe the blinds in a glaring light. This is in contrast to the opposite view, where the structure is indirectly lit. The glare and muted impact of the lights oppose various colours in perpetual tension without offering any reprieve.

Exhibition history
Der Öffentlichkeit – von den Freunden Haus der Kunst, Haus der Kunst, Munich, 2012

Catalogue
Haegue Yang: Accomodating the Epic Dispersion - On Non-cathartic Volume of Dispersion, 2012

back to exhibition
| | |
| --- | --- |
| back to alphabetical order (work) | back to chronological order (work) |