Publications
Publications are available at Galerie Barbara Wien, Berlin; Galerie Chantal Crousel, Paris; Greene Naftali, New York; Kukje Gallery, Seoul; kurimanzutto, Mexico City.
2017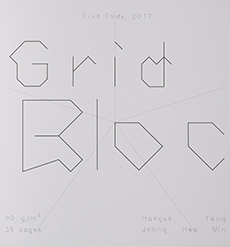 Graph paper pad, offset print
In collaboration with Jeong Hwa Min
Cover font design by Wolfgang Breuer 
Published by Wiens Verlag, Berlin
32 x 29.7 cm, 72 pages, printed on one side, ed. of 700 copies 
ISBN: 978-3-943888-10-2
buy
2016
An Opaque Wind Park in Six Folds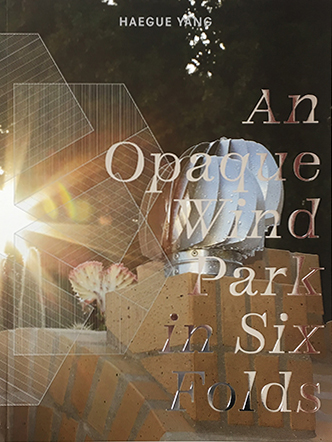 ed. by Haegue Yang and Suzanne Cotter
text by Suzanne Cotter
Design by R2
Published by Serralves Foundation
Portuguese/English
30 x 23 cm, 120 pages, Softcover
ISBN 978-972-739-338-1
buy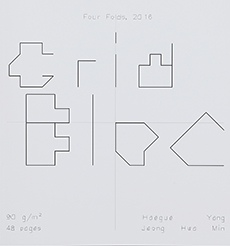 Graph paper pad, offset print
In collaboration with Jeong Hwa Min
Cover font design by Wolfgang Breuer 
Published by Wiens Verlag, Berlin
32 x 29.7 cm, 96 pages, printed on one side, ed. of 800 copies 
ISBN: 978-3-943888-09-6
buy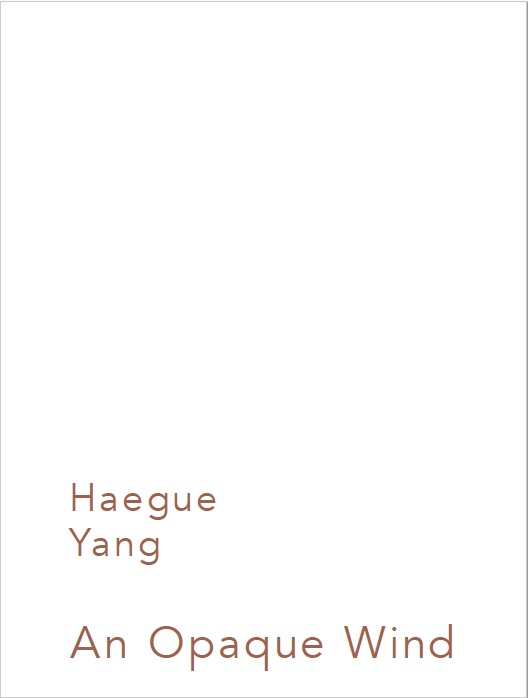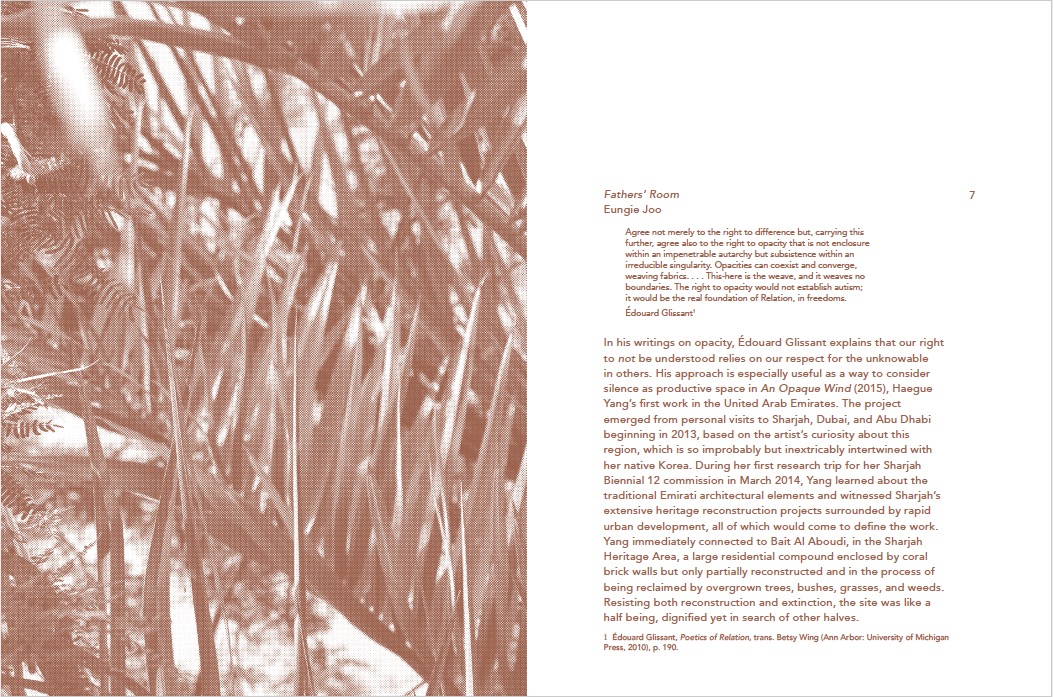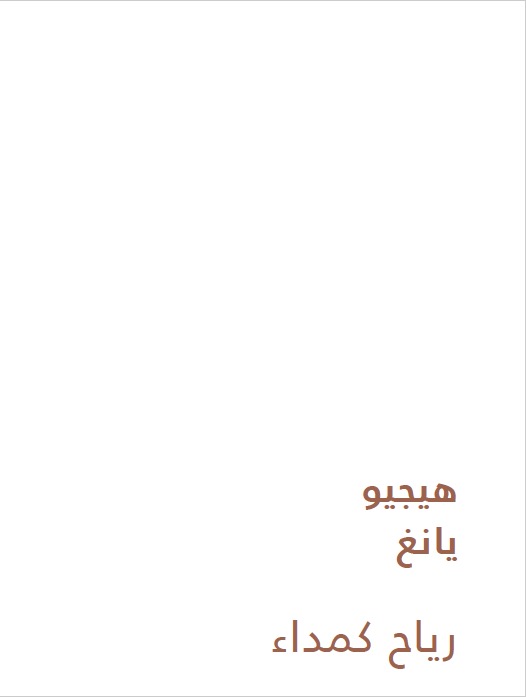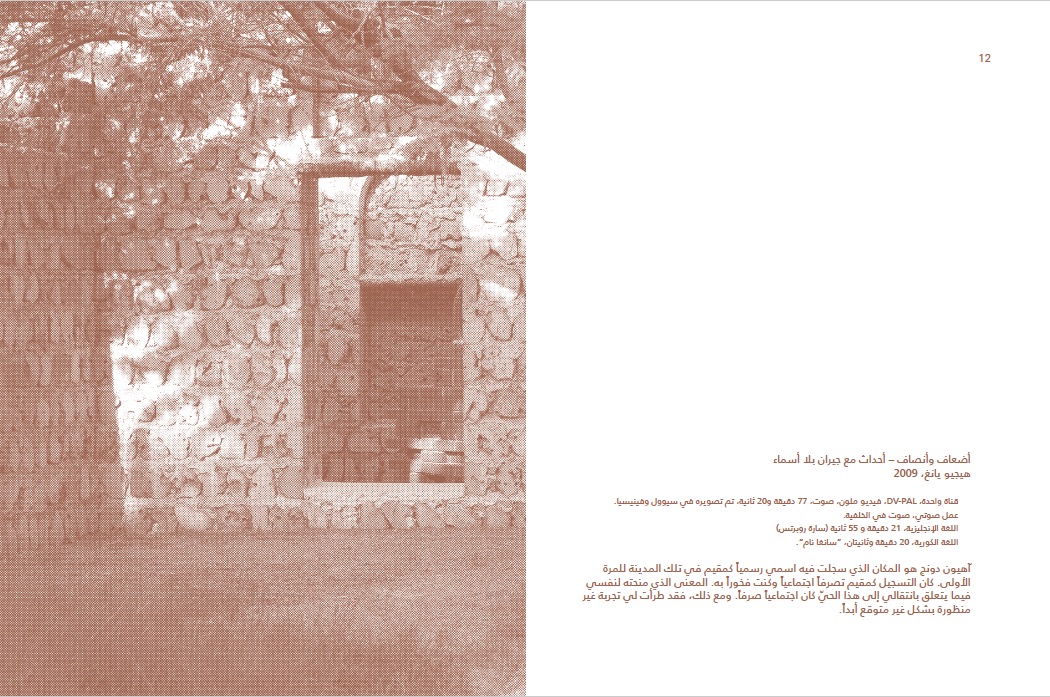 ed. by Haegue Yang and Sharjah Art Foundation
texts by Eungie Joo and Haegue Yang
Design by Studio Manuel Raeder, Berlin
English/Arabic
17 x 25 cm, 144 pages
ISBN: 978-9948-446-73-6 (Sharjah Art Foundation)
ISBN: 978-3-943888-08-9 (Wiens Verlag)
Available at Sharjah Art Foundation, Sharjah, Galerie Barbara Wien, Berlin, Galerie Chantal Crousel, Paris
2015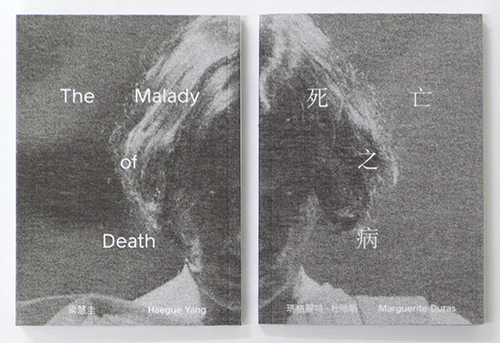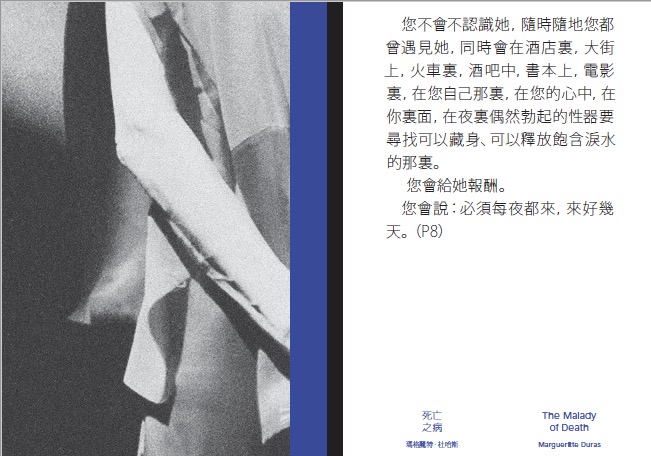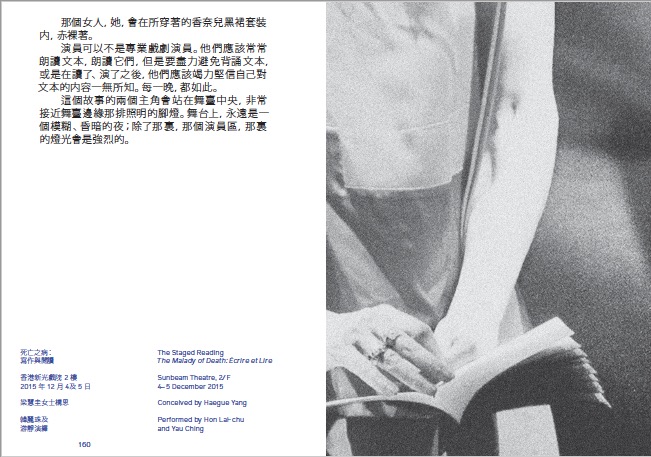 ed. by Doryun Chong, Pauline J. Yao and Haegue Yang
exh. cat. M+, West Kowloon Cultural District, Hong Kong
Translation by Sonia Au Ka-lai and Kevin Law
Design by Dante Carlos and River Jukes-Hudson
Chinese
20,9 x 15 cm, 160 pages
ISBN: 978-988-16240-1-7
Shooting the Elephant 象Thinking the Elephant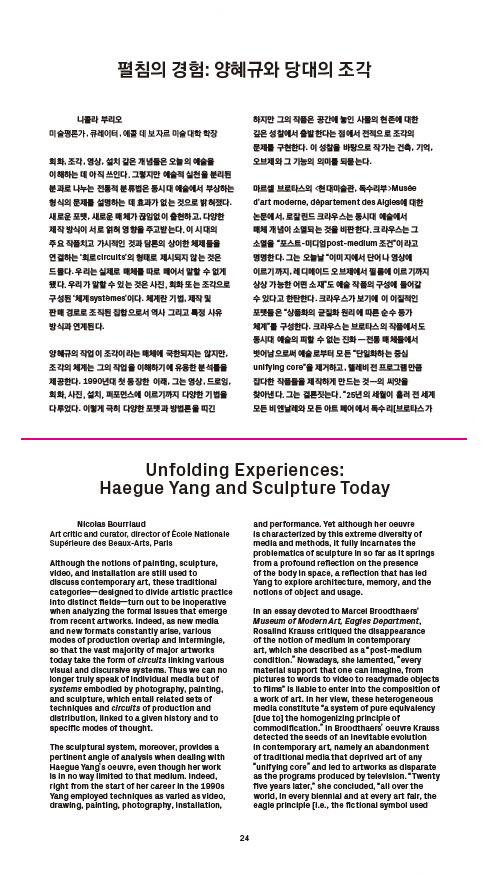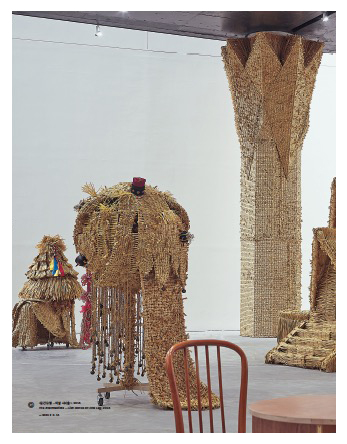 ed. by Leeum, Samsung Museum of Art, Seoul
texts by Nicolas Bourriaud, Sungwon Kim and Hyunsun Tae
ex. cat. Leeum, Samsung Museum of Art, Seoul
Design by Jinyeol Jung
English/Korean
2 books: 76 pages, 84 pages
ISBN: 9788985468480
2013
Dare to Count Phonemes and Graphemes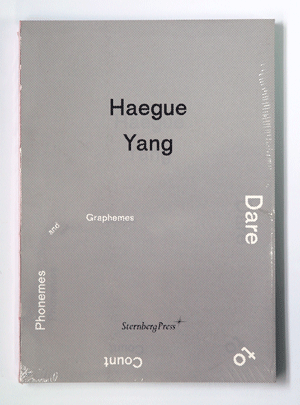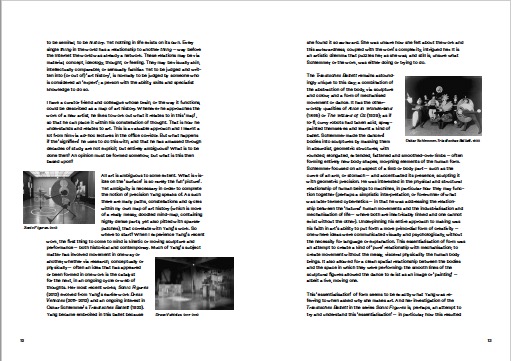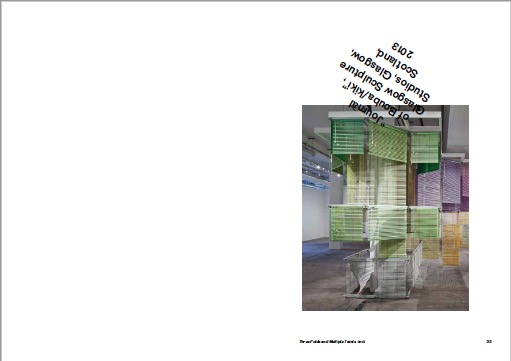 ed. by Kyla McDonald and Steinar Sekkingstad
texts by Ute Meta Bauer, Kathy Noble; Haegue Yang interviewed by Kyla McDonald and Steinar Sekkingstad
published by Sternberg Press, Berlin, 2013
ex. cat. Glasgow Sculpture Studios and Bergen Kunsthall
Design by Studio Manuel Raeder, Berlin
202 pages, 1300 copies
ISBN: 978-3-943365-91-7
How to write 4 – artists who write.
Publication series with artist's texts
ed. by Barbara Wien and Wilma Lukatsch, Berlin 2013
text by Haegue Yang (German/English)
16 pages, 330 copies
ISBN: 978-3-943888-04-1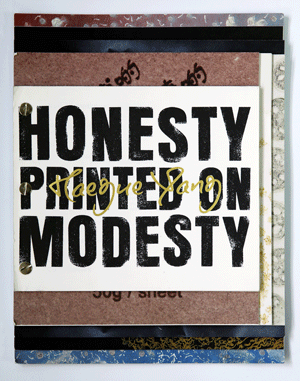 texts by H. G. Masters and June Yap
ex. cat. Singapore Tyler Print Institute, Singapore, 2013
Design by Winnie Goh, Singapore
214 pages, 650 copies
ISBN: 978-981-07-4952-1
Haegue Yang: Accommodating the Epic Dispersion – On Non-cathartic Volume of Dispersion


ed. by Julienne Lorz
texts by Sabine Brantl, T.J. Demos, Okwui Enwezer, Julienne Lorz, Haegue Yang
Published by Verlag der Buchhandlung Walther König, Köln
exh. cat. Haus der Kunst, Munich, 2013.
96 pages, 1000 copies
ISBN: 9783863352417
Haegue Yang: Family of Equivocations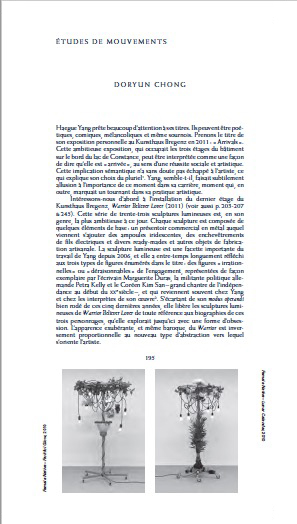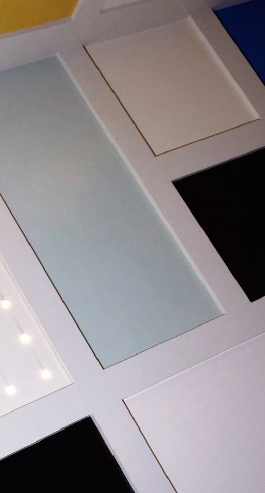 ed. by Camille Giertler and Lize Braat
exh. cat. L'Aubette & Musée d'Art Moderne Strasbourg 2013
Design by Oliver Knight and Rory McGrath, London
Hard back, 288 pages, 1500 copies
ISBN: 9782351251034
Grid Bloc A3
Graph paper pad, offset print
In collaboration with Jeong Hwa Min
Cover design by Studio Manuel Raeder
Published by Wiens Verlag, Berlin and Bom Dia Boa Tarde Boa Noite, Berlin
A3, 48 pages, edition of 1000 copies
ISBN: 978-3-9811288-5-7
ISBN: 978-3-943514-13-1
buy
2012
The Malady of Death – Monodrama with Jeanne Balibar
ed. by Haegue Yang
texts by Carolyn Christov-Bakargiev, Andria Hickey, Sylbee Kim, Marcus Steinweg
booklet accompanying the project for dOCUMENTA (13), Kassel, 2012
40 pages
Haegue Yang: Wild Against Gravity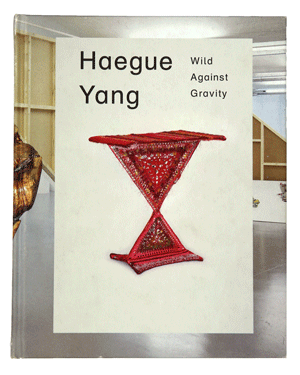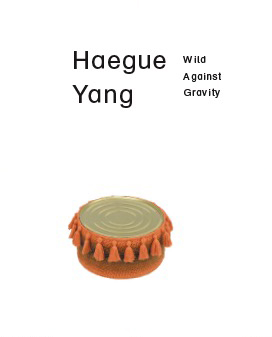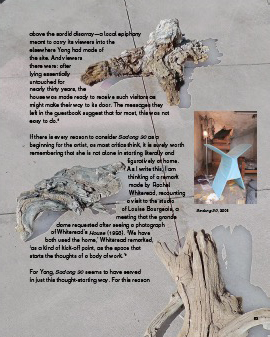 ed. by Ryan Shafer and Emily Smith
exh. cat. Modern Art Oxford and Aspen Art Museum, 2011
Design by Studio Manuel Raeder, Berlin
hard back, 190 pages
ISBN: 978-1-90135-252-8
buy
2011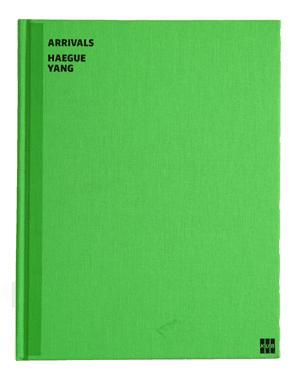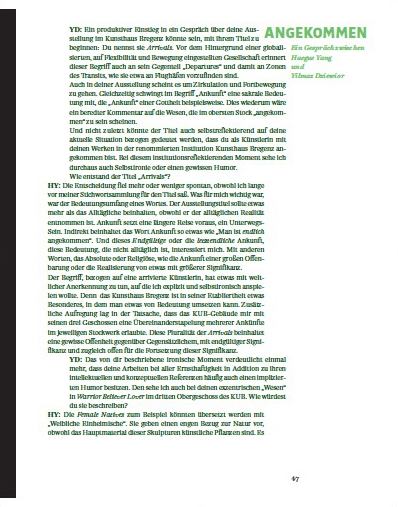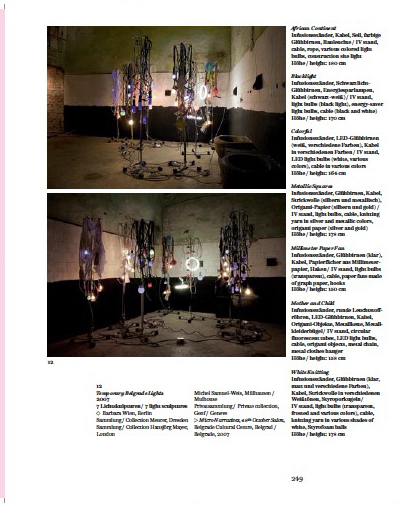 Catalogue raisonné
German/English
ed. by Yilmaz Dziewior
Design by Yvonne Quirmbach, Berlin
With contributions by Anders Kreuger, Yilmaz Dziewior,
commentaries on the works by Marina Vishmidt.
Editing and compilation of the catalogue of works: Katharina Schwerendt
351 pages, 18 x 23 cm, Hardcover
ISBN-13: 978-3865609687
buy
Integrity of the Insider
eds. by Pamela Johnson, Kathleen McLean
design direction Emmet Byrne
designed by Ryan G. Nelson, Abi Chase
published by Walker Art Center
ISBN 978-1-935963-03-5
buy
2010

Haegue Yang: Voice Over Three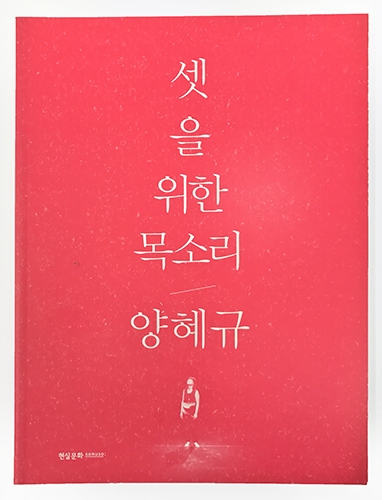 ed. by Samuso and Hyunsilmunwha
Korean, 88 pages, 230 x 170 mm, softcover.
design by Jinyeol Jung
ISBN(13) : 9788992214988
Haegue Yang: Siblings and Twins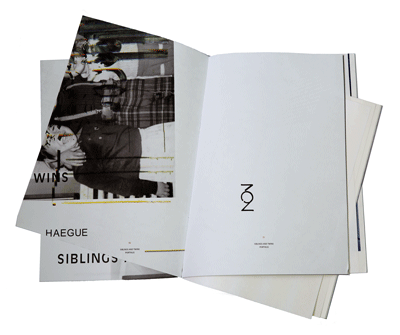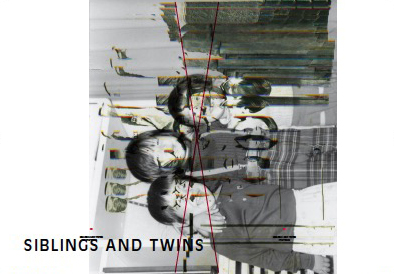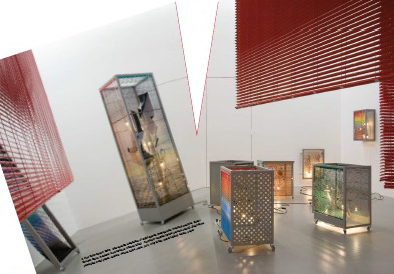 ed. by Melanie Ohnemus. With contributions by Doryun Chong, Bart van der Heide
and Melanie Ohnemus. 60 pages, softcover.
design by Manuel Raeder, Berlin
Published by Portikus, Frankfurt am Main
ISBN: 978-3-928071-86-4
2009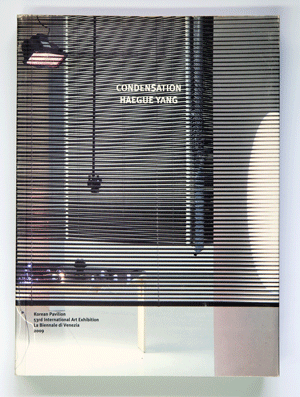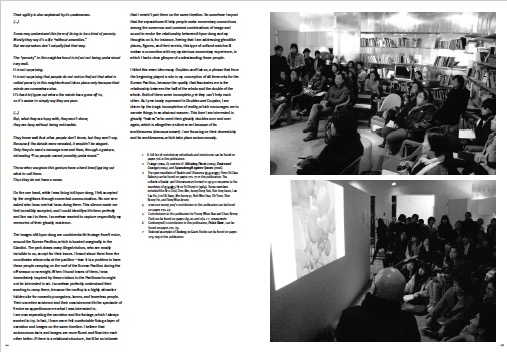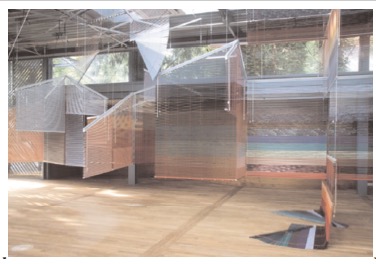 ed. by Eungie Joo. featuring a conversation between
Haegue Yang and Eungie Joo as well as contributions by artists Young Whan Bae,
Gimhongsok, siren eun young jung, Beom Kim, and Chan-Kyong Park, curator Jee-sook Beck,
architect Kunyoung Cho, and the legendary art collective Reality and Utterance.
published on occasion of the solo exhibition "Condensation" at the Korean Pavilion during the 53rd Venice Biennale from June 7 to November 22, 2009
Design by Sungyeol Kim, baan graphics, Seoul
English/Korean
17.5x24.5 cm, 320 pages, softcover
Published by Arts Council Korea, Seoul and Wiens Verlag, Berlin.
ISBN 978-3-9811288-3-3
Distribution in Asia and USA: www.korean-pavilion.or.kr/09pavilion  
Distribution in Europe: www.barbarawien.de
Haegue Yang: Melancholy Is a Longing for the Absoluteness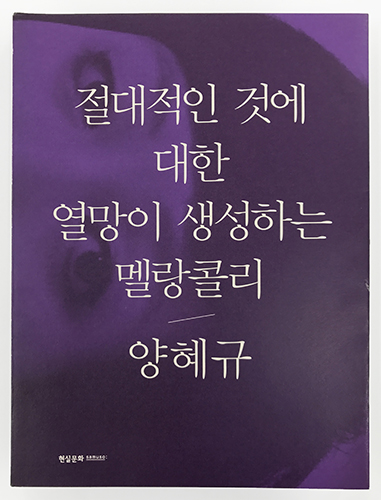 Korean, 264 pages, 556g, 170 x 230 mm, softcover.
Designed by Jinyeol Jung
Published by Samuso, Seoul and Hyunsilmunwha, Seoul
ISBN-13 9788992214742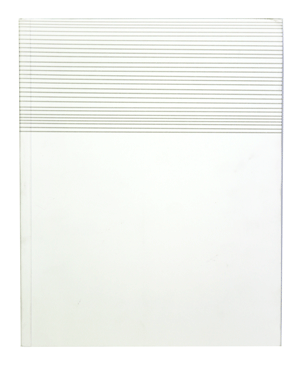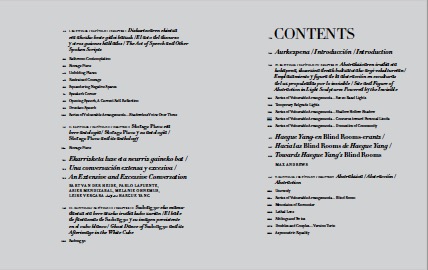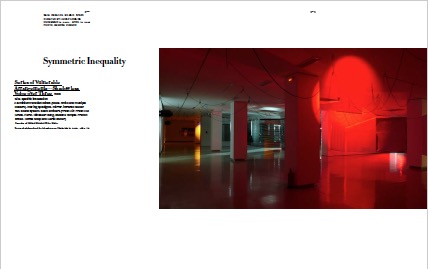 ed. by Leire Vergara. With contributions by Max Andrews, Jie-Hyun Lim, Bart van der Heide,
Pablo Lafuente, Asier Mendizabal, Melanie Ohnemus, Leire Vergara and Haegue Yang.
Basque, Spanish and English, 352-page, softcover.
Design by Katie Hanburger & Gail Swanlund
Published by Sala Rekalde, Bilbao
ISBN: 978-84-88559-58-6 (sala rekalde)
ISBN: 0-9749831-9-5 (REDCAT)
buy
2008
Text Park Jun-sang, Haegue Yang
ed. by Yumi Kang
Translation by Doryung Chong (Korean into English), Heekyoung Chung (French into Korean)
softcover.
Design by Metahaven, Na Kim
Published by Insa Art Space of the Arts Council Korea
ISBN: 978-89-93082-61-603600
Haegue Yang: Asymmetric Equality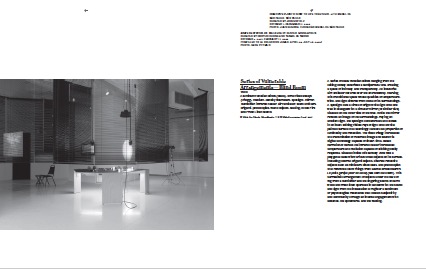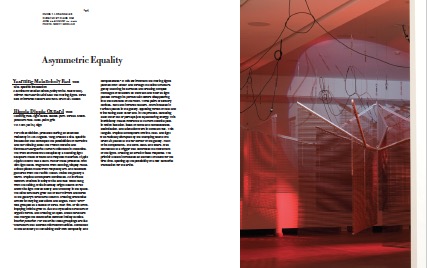 Bilingual English/German with contributions by Clara Kim, Eungie Joo,
Marcus Steinweg, Doryun Chong and Haegue Yang.
216-page, 4-color, perfect bind, softcover
Design by Katie Hanburger, Gail Swanlund and Jon Sueda
Translation by Clemens Krümmel
Published by California Institute of the Arts/REDCAT and Sala Rekalde, Bilbao This catalogue was published in conjunction with the exhibition Asymmetric
Equality: Haegue Yang at REDCAT from June 28 - August 24, 2008. A second companion volume Symmetric Inequality: Haegue Yang is published by Sala
Rekalde.
ISBN 0-9749-831-9-5 (REDCAT)
ISBN 84-88559-56-9 (Sala Rekalde)
buy
2007
Community of Absence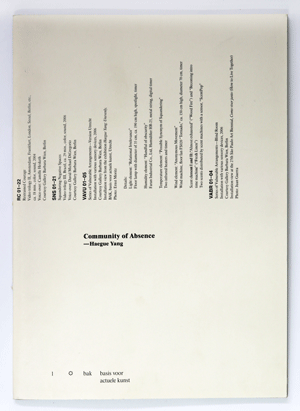 Together with the book designer Manuel Raeder, Haegue Yang designed this catalogue. Next to introductory text the book gives a good overview about her works, i.e. Yang's film trilogy, Series of Vulnerable Arrangements and Blind Room.
Revolver-Archiv fuer Aktuelle Kunst, Frankfurt am Main, 2007
BAK, basis voor actuele kunst, Utrecht, Netherlands, 2007
texts by Binna Choi, Lars Bang Larsen and Nina Moentmann
Design by Manuel Raeder, Berlin
english
ISBN 978-3-86588-401-5 (Revolver)
ISBN 978-90-77288-09-2 (BAK)
available at info@bak-utrecht.nl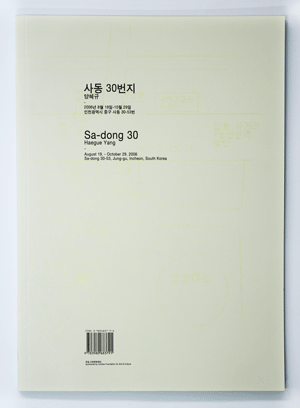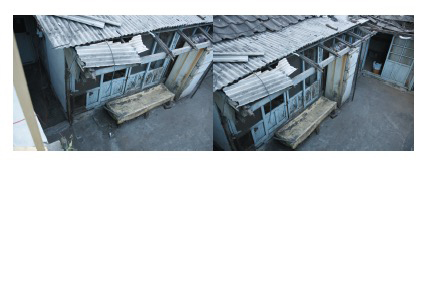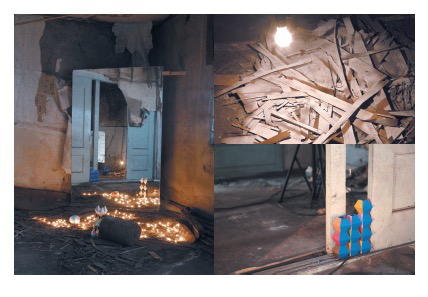 In Fall 2006 Haegue Yang exhibited an installation in a deteriorating house in Incheon (Korea). The book documents the location, "a place that the system has missed".
Wiens verlag, 2006
texts by Hyunjin Kim and Interview by Jangun Kim with Haegue Yang and Hyunjin Kim
Design by Byul, Seoul
English and Korean
ISBN 3-9806837-9-6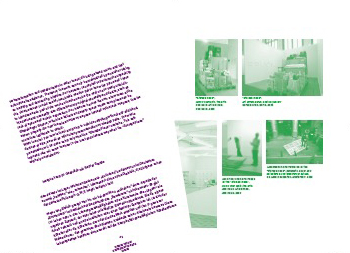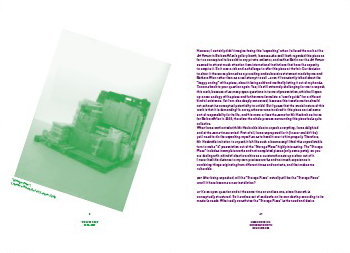 In 2005 the collector Axel Haubrok purchased Haegue Yang's "Storage Piece" - an accumulation of previously unsold, partlypackaged works by the artist, of which Haegue Yang compiled on 4 euro-pallets. A theme of the object is the daily commerce of art in ateliers, galleries and collections - it deals with storage, salability of art, art-owning and the consequences. Haubrok, along with Yang, has implemented the ways in which the concept of the work can be considered and propelled.
The publication documents the history of the "Storage Piece.

Wiens Verlag, Berlin, 2007
Design by Manuel Raeder, Berlin
texts by Raimar Stange, Interview by Raimar Stange with Haegue Yang and Axel Haubrok
german and english
ISBN 978-3-9811288-0-2
buy
2004
The Pages
Artists' book showing the only traces of the communication when faxing.

Revolver-Archiv fuer Aktuelle Kunst, Frankfurt am Main 2004
Design by Maureen Morren and Daniel van der Velden, Amsterdam
German and English
ISBN 3-937577-90-4
buy
2002
Blink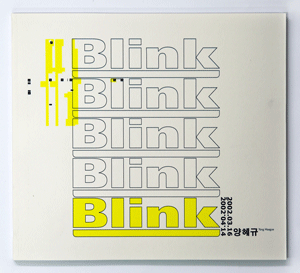 Artsonje Center, Seoul 2002
text by Sungwon Kim
Design by Hyunjin Paik
Korean and English, 44pages
Air and Water
Dresdner Bank, Frankfurt am Main, 2002
text by Isabel Podeschwa
Design: Wolfgang Breuer and Achim Reichert
16 Pages, german and english

Industrie und Technik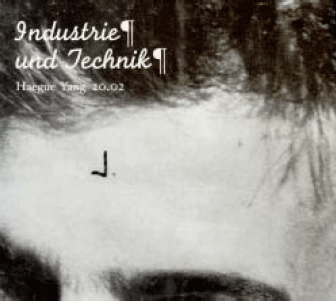 Dielmann Verlag, Frankfurt am Main 2002
text by Anja Casser
Design by Ade Hauser Lacour, Frankfurt am Main
German and English, 48 Pages, 24,5 x 21,5 cm
ISBN 3-929232-92-8
2001
Traces of anonymous Pupil Authors
"This project is based on used social studies and general technology schoolbooks from grades 7 through 9, which I gathered from a trip to Korea. The books were filled with study marks made by the students to which the books belonged, in the form of text underlines, circles, marks, and strikethroughs, instructions and connections. I removed the original printed texts so that only the original marks made by the students themselves remained: Through this isolation of self-designed study aids, the aids should have autonomyin order to make clear the limitations of the given schoolbooks." H. Yang
16 offset prints (b/w), 44x31,7, in portfolio, page for page signed.
Edition of 30
Wiens Press, Berlin, 2001
2000
Grid bloc
Cover design byAchim Reichert
13 pages, offset, 500 copies, DIN A 4, 2000
Week on two pages diary
Concept : Haegue Yang
Design by Wolfgang Breuer
54 pages, offset, 300 copies, 9.5 x 17 cm, 1999

Die Publikation wurde anläßlich der Ausstellung Hamburgerfonstiv als eigenständige Arbeit produziert. Wie die Installation selbst, ist die Publikation eine
Modifizierung einer realen, vorgegebene Situation. Nach gründlicher Recherche des Produkts Filofax Inlay wurden die vielen vorteilhaften Innovationen, z.B. das Format und die 6er Lochung beibehalten. Modifiziert und reduziert wurden andere Elemente wie Feiertage, Firmenlogos und die typografische Ordnung.
Sonderfarben
Subjects of Haegue Yang's works include cultural, social and economic evaluations. She often chooses everyday objects, i.e. furniture, Venetian blinds, kitchen tools and other standard objects of daily life, and questions their use and their form. The catalogue gives an overview on her work from 1998 – 2001
Catalogue 1998-2001
Wiens Verlag, Berlin 2001
texts by Meike Behm, Martin Pesch, Jochen Volz and Peter Lütje
Design: Ade Hauser Lacour, Frankfurt am Main
German and English, 72 pages
ISBN 3-9806837-2-9